Baby Shower Gift Ideas 101
Baby shower gift ideas to make your baby shower gift stand out.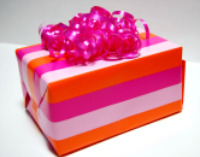 Having a baby is expensive...no kidding. The new parents will need diapers, formula, clothes, blankets, toys and the list goes on.
Luckily having a baby shower will help them get started. There are lots of baby gifts to choose from and if mom-to-be has a baby registry account then that's a great place to start.
However you may want to get mom something a little more special that she will love and appreciate and at the same time be one of those special guest that brought something new or unique to the table.
Opening gifts is probably the most looked forward to section of the baby shower for her. She cannot wait to see all the amazing and thoughtful gifts she received. She may have dozens of gifts to go throw since everyone wants to see her expression when she opens their gift.
Make this section fun for guests as well as the guest of honor with these gift opening games.
---
Baby Shower Gift Ideas
Baby Shower Gift Baskets
Get ideas for a unique and useful baby shower gift baskets for mom and her baby!
Stand out with a Unique Baby Shower Gift
Wow the crowd and the mom-to-be with that oh so unique gift.
Baby shower Gifts For Mom
If you are thinking of picking out something special for the expectant mother then here is a list of ideas to choose from.
Baby shower Gifts For Dad
Don't forget to give the dad a little something, after all mom can't take all the credit for the new baby.
Baby Shower Hostess Gift
Show your appreciation by giving your hostess an extra special thank you gift.
Homemade Baby Shower Gifts
Making your own baby gift is one of the best way to make sure that your gift is as unique as the new baby. Take a look to find some great homemade gift ideas just right for you.
Baby Shower Gag Gifts
These Hilarious baby shower gag gifts will cause an explosion of laughter for mom and baby shower guests. Don't stop there get a gag gift for dad as well. There are soo many to choose from such as the popular Daddy Tool belt, sperm bank and much more.
Hilarious Baby Shower Diaper Cake
A diaper cake makes the perfect baby shower gift as it is so versatile. Use it as a table centerpiece or a conversation starter and then give it to the mom to be as a gift. Learn how to make a diaper cake here!
Hop from Baby Shower Gift Ideas To Home Page
Jul 15, 21 02:41 PM

A baby gender reveal is a whole event with these creative and fun reveal ideas and games.

Jun 03, 20 04:34 PM

Virtual baby shower games and ideas to make your virtual celebration a hit

Apr 16, 20 03:40 PM

Print these fun, free baby shower bingo games for popular baby bingo, gift bingo and nursery rhyme bingo games.