Make Gift Opening Fun with
Baby shower Gift Opening Game

The expectant mother will have a mountain of baby shower gifts to open so try playing a baby shower gift opening game or two to make gift opening fun for everyone.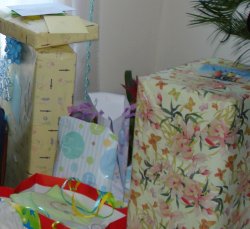 A baby shower gift opening game will keep guests interested while mom-to-be opens her gift.It also acts as a distraction if there are a lot of gifts since everyone wants mom-to -be to open their gift, this section may stretch out a bit.
A really cool and fun idea is to use baby shower items or gifts as prizes so that when a guest wins a prizethey can present it to mother-to-be. It's a nice gesture and that way the expectantmother gets more baby supplies.
---
Baby Shower Gift Opening Games:
Baby Gift Bingo
This is a fun and easy baby shower gift opening game. Print off this easy bingo card to play baby gift bingo. Instruct guests to fill in the blank spaces with gifts they thinkMom-to-be will receive.When mom starts to open gifts, mark off each item on the bingo card with a game piece, such as hersheys kisses, little plastic babies, pennies etc.There is a winner if someone gets five in a row, diagonally or horizontally. Don't stop playing until all the gifts are opened as there may be more than one winner.
Mommy Said So
While mom to be is opening her gifts have someone secretly write downwhat she says, such as "oh, that's so cute" or "look how tiny it is" or "thank you I love it".
When she has opened all the gifts, tell mom-to-be and the guests that it is often said that what mom-to-be said while opening her gifts ismost likely the same thing she said when the baby is being conceived.Read back all that she said for lots of laugh.If dad to be is present he will also find this game quite humorous.
Gift Advice Cards
If mom to be plans to have advice cards to see her through her new rolethen this game will be endearing to her. Give each guest a baby advice card as they enter and ask them to something about parenting.If a guest is not a parent just tell them to write something from their experience while growing up.
When mom-to-be is opening gifts tell her everyone to take out theiradvice card and read their advice when mom-to-be is opening her gift from them and read their advice. She will really appreciate this and some of the other guests may even benefit from the advice,you just never know.
Lucky Number 7
Did you know that the person who brought the 7th baby shower gift opened by mom-to-be is next in line to get pregnant?Yes, this common superstition is similar to that of catching the bouquet at a wedding.
So make sure to count the gifts and the 7th one the expectant mother opens should win a baby making prize such as agift certificate to a lingerie store or a basket of sweet lotions and perfumes.
It is common superstition that the person who bought the 7th gift the parents-to-be opens is the next to have a child, much like the catching of the bridal bouquet at a wedding.
Guess Who
Tell guests not to add a card to the baby shower gifts or take the cards off when guests arrive. So when mom-to-be picks a gift,based on what she has gotten she tries to guess who it is from. The crowd may help her out by giving her clues. This is a fun baby shower gift opening game to keep things interested.
Lucky Giver
This baby shower gift opening game allows mom to be to give back at the same time that she is receiving. Play this baby shower gift game in 1 of 2 ways. You can have the guest of honor selecta few numbers between 1 and the total number of gifts she receives. So when she picks a number say for instancenumber 9, then the person that brought the 9th gift she openswins a special prize. If it's a joint gift then all the persons need to get a prize.
The second way to play this game is by setting a timer to go off every 5 to 8 minutes and the person whose gift is being opened when the timer goes off wins a prize.
Show Me Your Gift
This is really a gift opening activity for those mothers-to-be that don't really like all the attention on them, that gift opening usually entail. A nice way to take some of the attention from her while letting everyonesee what cute gifts mom-to-be got and from who.
When you get to the gift opening section of the shower tell everyone to take up their gift and ask everyone to sitso that mom-to-be is in the center and each person can see the other opening their gift. Have each person open their gift and display it for all to see and then pass it on to mom. This is especially nice if you are giving mom to be a giftthat has sentimental value or some meaning behind it, that way they can talk about why they choose the gift and the meaning behind it.



From Baby Shower Gift Opening Games to Gift Ideas
Jul 15, 21 02:41 PM

A baby gender reveal is a whole event with these creative and fun reveal ideas and games.

Jun 03, 20 04:34 PM

Virtual baby shower games and ideas to make your virtual celebration a hit

Apr 16, 20 03:40 PM

Print these fun, free baby shower bingo games for popular baby bingo, gift bingo and nursery rhyme bingo games.