Virtual Baby Shower Games
Fun While Being Distant

Virtual baby shower games? Yes there is such a thing and we have all the details to help make your virtual baby shower a success.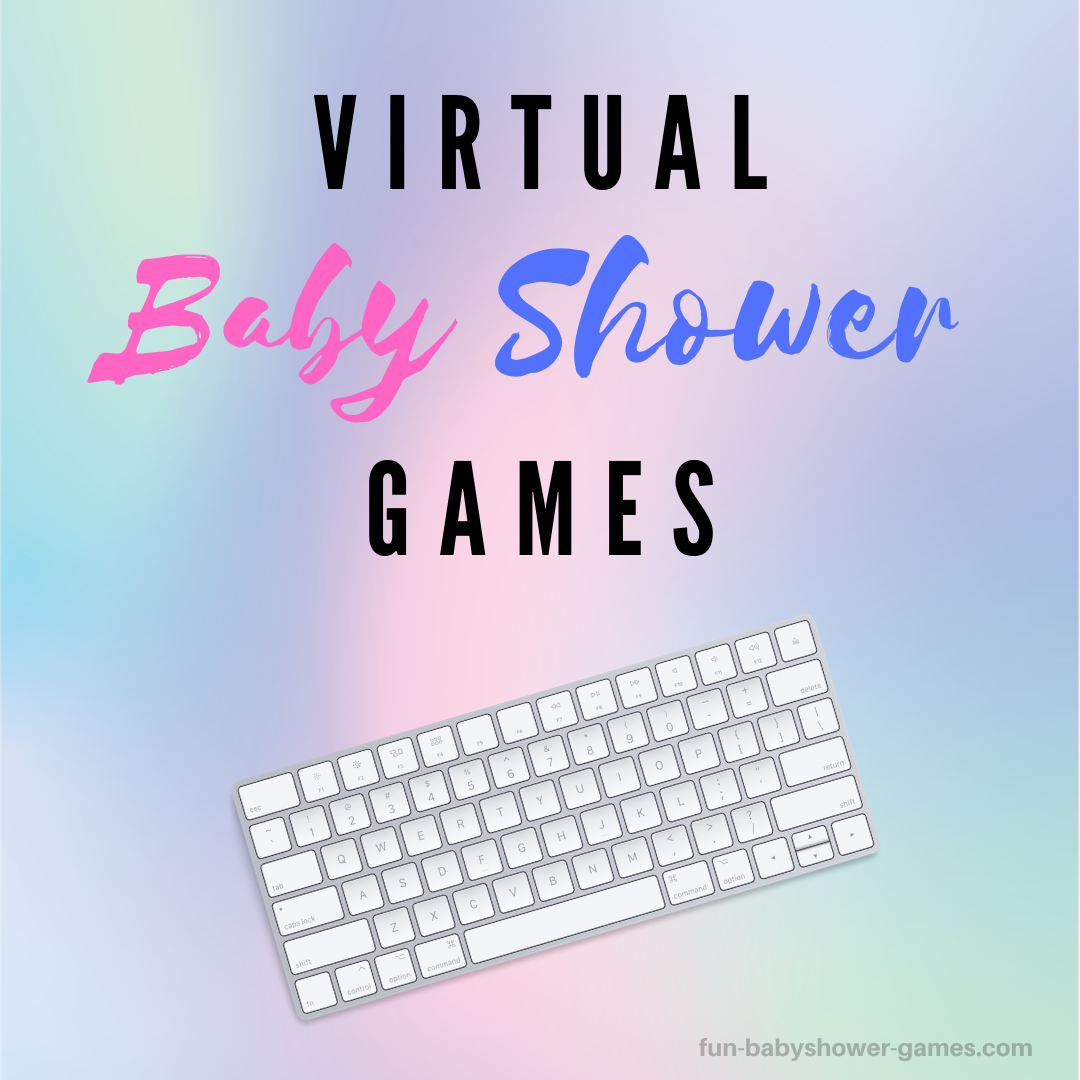 These days of social distancing  and quarantine, a virtual baby shower is the next best thing to the actual physical celebration. Despite everything we still need to show our love and support to the expecting parents.
Drive by baby showers, zoom and other online methods to host the shower is being embraced with a lot of success.
We believe that baby shower games are a big part of the baby shower experience and its no different with a virtual party.
Browse below for games and ideas to include in your party, no doubt you will have a great time virtually.

Tips for playing virtual baby shower games

Before the start of games inform everyone on how you intend to proceed by telling them what games you are going to play, how many games and any rules they need to follow.  For instance tell them when its time to display answers they are to hold up answer sheet or wait to be acknowledged.

Most of the games normally played on paper such as printable baby shower games can be used.
Email or direct message list of activities, games or game sheets ahead of the event to get everyone involved and excited.

Having a host or moderator to keep track of everything will help to make things run smoothly.

Tell guests to have paper and pens on hand- This makes it easy for everyone to display their answers instead of everyone trying to talk over each other.
Yes you can award prizes after all its still a competition:
drop off prizes at front door if guests are not far away
award gift cards
order online and have it shipped
Virtual baby shower game Ideas

This popular game is always a fun favorite because everyone wants to one up other guests. Traditionally guests would steal clothespins, pacifiers, etc once they hear someone say the buzzword word "baby" but since you are physically unable to steal a game peice then ask players to take a drink of wine, mojito etc. I'm sure that will be a big hit.
Share a recipe of mocktail or cocktail before hand to get everyone in the zone.
This fun guessing game is a virtual spin on the traditional game. Just ask guests to write down the size of the mommy-to-be's belly. Either use a tape measure or guests can guess the squares of a toilet paper.
After everyone writes down their best guess let them know when to display their answer. Mommy will then tell her actual baby bump size and the player who goes the closest without going over is the winner.

Price is Write Virtual Baby Shower Game

Virtual Price is Right game, Yes!!! .Guests have to write down what they think the price of each baby item displayed is, hence price is write.
At the end ask everyone to tally the prices and the person whose total comes the closest to to correct number without going over is the winner. 
Be sure to have 6 to 8 small baby items such as baby powder, pacifier, baby bottle, etc or you can even have pictures of the items to display. Go to your local supermarket and find the prices of each of the items you want to display and keep the receipt safe or write down the prices if you are using pictures.

Playing who knows the mommy best is one of those virtual baby shower games that everyone will enjoy. Have some questions prepared before hand about mommy and send it to each player to fill out and set aside.
You can choose to let each person tell their answer individually or let mommy answer each question and pick 2 or 3 persons to give their answer just for laughs and giggles. the person who has the most correct wins and gets bragging rights. 
This is a fun way for the parents to share with everyone what traits they would like the baby to get and from whom. Its sure to be an activity that all will enjoy.
To play prepare a list of traits. Mommy and daddy will read out and answer the questions and give each of their perspective.
We recommend asking guests to tell you some features or characteristics that they love about the couple or even traits that irks them. This will no doubt give you some great ideas.

He said She said
Fun lively discussion between the mom and dad on who will do what in regards to the baby. Guests get to pick who said what. Player with the most correct answers wins.
Here is how you play:
Have a list or questions prepared and send them to each player. Players write down mommy, daddy or both for each question based on who they think said what.
Mommy and daddy will have sign with He said / She said on either side. They will read out each question and simultaneously put up their answers.

Have each guest send a photo of themselves when they were a baby or toddler. To play this virtual baby shower game the mom-to-be will look at each picture and try to guess who it is.
It can be really funny to see what she comes up with.

From Virtual Baby Shower Games to More Baby Shower Game Ideas
Jul 15, 21 02:41 PM

A baby gender reveal is a whole event with these creative and fun reveal ideas and games.

Jun 03, 20 04:34 PM

Virtual baby shower games and ideas to make your virtual celebration a hit

Apr 16, 20 03:40 PM

Print these fun, free baby shower bingo games for popular baby bingo, gift bingo and nursery rhyme bingo games.