11 Fabulously Free Printable
Baby Shower Games

Yes you saw right, free printable baby shower games for you. No catch and no gimmick.
I am sure you will find at least a couple games that you just have to take with you to that upcoming party you are planning. We made it good by have a few easy games you can use as ice breakers and even the left right game to get you moving and laughing at the same time.
Our Printable games are a welcome distraction for guests while waiting for others to arrive. They also work well in between or after active games by giving everyone a chance to catch their breath.
Use these free printable baby shower games to make your planning easier and the baby shower fun and memorable.
All games are available in pdf format so its advisable that you have the latest version of adobe reader installed on your computer. If you don't have adobe reader then you can download the latest free version here
---
All printable games and material found on this site is the property of fun-babyshower-games.com. You may print or download for personal or non commercial use only. Please refer to terms of use.

Baby Shower Bingo

Print off this easy bingo card to play baby gift bingo. Instruct guests to fill in the blank spaces with gifts they think Mom-to-be will receive.When mom starts to open gifts, mark off each item on the bingo card with a game piece, such as Hershey kisses, little plastic babies, pennies etc.
There is a winner if someone gets five in a row, diagonally or horizontally. Don't stop playing until all the gifts are opened as there may be more than one winner.
Please do check back soon for more free bingo cards.

Quickly download your free Baby Gift Bingo here and enjoy

Nursery Rhyme Game
Nursery Rhyme Game
This is an all time favorite baby shower game. Think you remember all the nursery rhymes?I bet you and your guests will have to be on top of your game to figure these out.
Print this nursery rhyme game and see how many of your guests can guess the rhyme in a short time.


Left Right Game


Read this funny Left Right Story to guests and every time they hear the word Left or Right/Wright then they pass the gift in that direction.
Try not to read the story too slow a reasonable pace will have guests scrambling to pass from left to right.The one left holding the prize at the end of the story gets to keep it.
Click Right here for this game if you don't want to be left out of the fun.
Baby Shower Word Scramble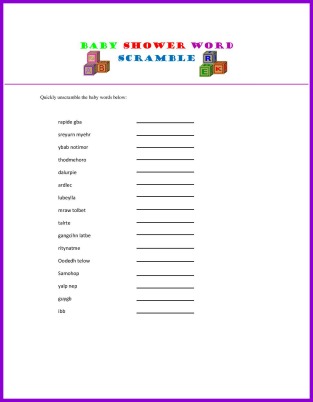 Get the party started with a baby word scramble. Not too challenging but its no walk in the park either. Its just right to get everyone in the mood to chat and see whats next.
To play simply just hand out game sheets and let everyone race to unscramble the list of words provided. The first person to do so successfully wins.
If you want to get things really loud use a chalkboard, whiteboard or whatever you have instead and as you write the scrambled word on the board the first person to call out the correct answer gets a point. The person with the most points win.

Let your guests race to unscramble these baby related words with this free copy of baby shower scramble. It can be a little tricky but a lot of fun.
Baby Alphabet Game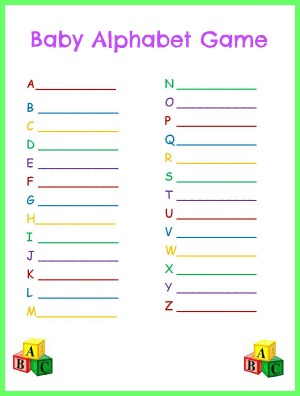 The Baby Shower Alphabet Game is a race to see who is fast on the draw with their baby names and/or baby stuff.
Give guests a chance to guess a baby name or baby related item for every letter of the alphabet. To make it more challenging tell them to double or triple the words for each letter. Hostesses make sure to set a stop watch!
If you really want more of this game download this free copy we made just for your entertainment pleasure.
Baby Shower Word Find Puzzle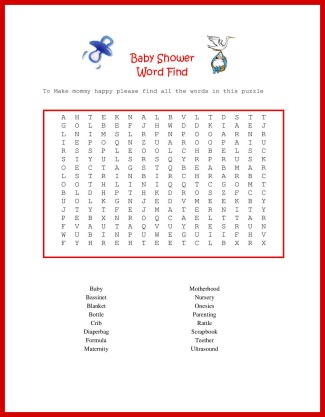 Most everyone likes a good puzzle. Challenge your guests with this free baby word find. All word are baby related and it is a perfect ice breaker to get the party started.
To play simply give each person a game sheet and the first person to find all the words shouts out he/she is finished wins. Players that comes in a close 2nd or 3rd can also get a prize if you like.
Click to view and Print. Answer and instruction sheet is also provided.

Baby Animal Match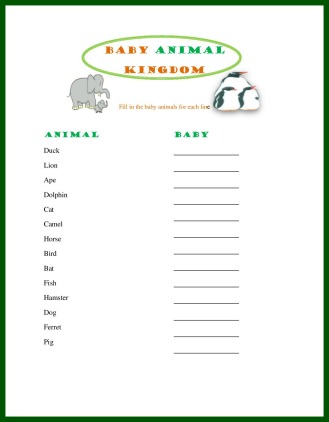 Think you know animals and their young? Then why not have your guests play this fun free printable baby shower animal match game called baby animal kingdom. Play individually or as a team.
All you need is game sheet for each player and pen.
To play give each player or team a game sheet and 3 to 5 minutes to fill in as many correct answers as they can. The winner is the team or person that has the most correct answers. Have a wild time!
Click to view and download Baby Animal Kingdom here.




I Spy Baby Shower Game
This interestingly unique shower entertainment is more of a activity than a game. I really like that guests are the ones that choose to  capture some memorable game for the mother-to-be. 
We have made I spy game cards for your guests to use in 2 colors.
So click this spot to see how to play and view and print the I spy game for free.
Candy Concentration Game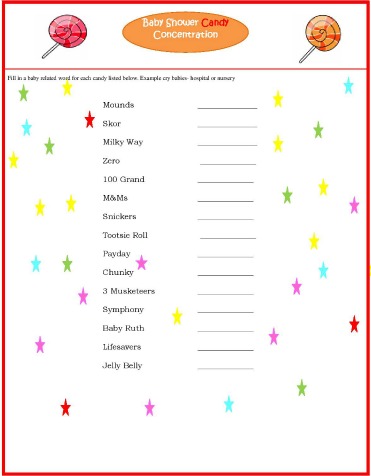 This deliciously fun Baby shower Candy Concentration Game will give guests a good laugh when they hear the meaning behind candies such as Skor candy.
Find out how to play here and download game sheet with answer now
Stand Up Sit Down Game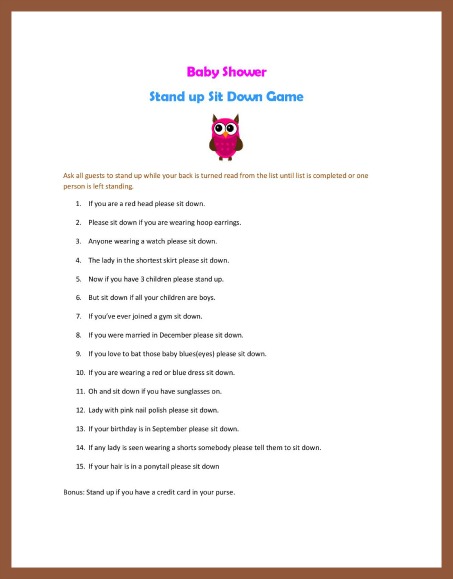 Baby Shower Elimination Game or the stand up sit down game is an old game with a new baby shower twist.
Please click here if you would like to read more about this game or download it free now

Here are some more printable baby shower games that you might like.


Fun Baby Shower Home Page
Jul 15, 21 02:41 PM

A baby gender reveal is a whole event with these creative and fun reveal ideas and games.

Jun 03, 20 04:34 PM

Virtual baby shower games and ideas to make your virtual celebration a hit

Apr 16, 20 03:40 PM

Print these fun, free baby shower bingo games for popular baby bingo, gift bingo and nursery rhyme bingo games.