Baby Shower Candy Bar Game
Candy Concentration

Have sweet fun with this Candy Bar Game called Candy Concentration. Guests will love this game when they find out the true meaning behind the Skor Candy Bar
The game will be all the more sweeter when you give out different candy as game prizes.
Play this game by giving out game sheets with candy on the left and ask players to fill in the appropriate baby related word in the blank spaces
Another Way to play is by calling out the candy and the first person to shout a correct baby related term for that candy wins the candy. To ensure nobody feels left out give those that didn't guess any correct answer a cry baby candy.
Hey! Scroll down for a free printable copy of this game

---
Baby Shower Candy Concentration
Instructions: Fill in a baby related word for each of the candy below. Example Cry Babies - Hospital Nursery.
01. Mounds __________
02. Skor __________
03. Milky Way __________
04. Zero __________
05. 100 Grand __________
06. M&Ms __________
07. Snickers __________
08. Tootsie Roll __________
09. Payday __________
10. Chunky __________
11. 3 musketeers __________
12. Symphony __________
13. Baby Ruth __________
14. Lifesavers __________
15. Jelly Belly __________
Candy Concentration Match Answers
Mounds- Laundry
Skor- Conception
Milky Way- Breastfeed
Zero- Good Night's Sleep
100 Grand- Hospital Bill
M&Ms- Twins
Snickers- Baby's laugh
Tootsie Roll- Dirty Diaper
Payday Formula, Diapers, Wipes
Chunky- Baby Fat
3 Musketeers-Triplets
Symphony- Lullabies

Baby Ruth- Baby Girl
Lifesavers-epidurals
Jelly Belly- Pregnancy Tummy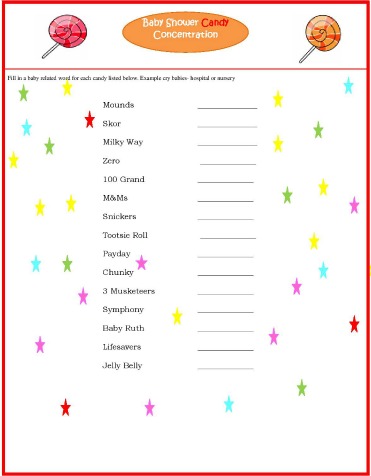 Download a free copy of this candy bar game to play at your party. we made it super easy by providing answer sheet with instructions just for you.

But wait we have more Baby Shower Candy Games for even more mouth-watering fun.

Apr 03, 20 12:35 AM

A baby shower agenda will help keep everything running according to plan during the baby shower party.

Mar 25, 20 02:24 PM

Sticking to a baby shower budget is the best way to control spending. Here are some tips and advice for planning a baby shower on a budget.

Feb 11, 20 03:27 PM

The Don't say baby shower game is a fun and easy game that is the perfect ice breaker and great for any shower crowd. Little prep time but lots of good times for everyone.