Fun Baby Shower Decorations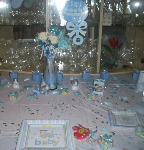 The baby shower decorations will make the party more festive and will create the perfect atmosphere to put guests in the baby shower spirit. The baby shower decorations you choose will depend largely on the following things:
Theme- Use the decorations to breathe life into the theme. Be creative but keeping it simple is always the best approach. You can purchase themed decorations or improvise and make your own decorations.
Location- Where you decide to host the party will impact the decoration you use. Holding it a the mom-to-be's house or someone elses will give you the advantage of having more leeway in being creative and bold with decoration ideas. You can remove furniture and use a dining room or backyard if its available. If you are hosting it at a restaurant you may have restrictions on the decorations.
Budget- You do not have to spend a whole lot of money to decorate the way you want. Have a budget upfront so youdon't end up spending on items you may not use or need.
Cute Baby Shower Decoration Ideas

Traditional baby shower decorations goes well with almost any theme. These items are balloons, streamers, banners in pastel colors of pinks, yellows, greens spread across the room.
Tableware- presentation of food and gift tables adds to the decor of the room. Use a solid tablecloth that matched the color theme of the theme. For Instance if the theme is a princess theme then use colors like pink, gold or red for the tablecloth. For an elegant, classy look use a white table clothe.
The table centerpiece is the focal point of the table so you need to use something attractive to the eye or other senses.
You can purchase baby shower confetti and sprinkle around the gift and food table. You canfind cute baby shower themed tableware such as plates, cups, spoons and napkins.
Baby Shower Clothesline- Make cute and creative banner for the shower with a baby clothesline. String up a chord and pinbaby clothes or small baby items like pacifiers. You can also pin diapers with the letters BABY SHOWER spelt out on each diaper.
Baby items- use baby items around the room as focal points such as baby bath with small rubber duckies floating in it, building blocks, etc.
Baby Bottles- remove the nipples and stick in straws and give to guests in place of cups. Or fill with colorful candyand place on tables.
Pacifiers, Diaper Pins- Can be used as napkin holders.
Baby Shower Cut Outs- Make these yourself or purchase from a party store and tape to walls and other surfaces.
Candles- scented, colored or plain candles can be use to create a classy look and they make cute table decorations.
Umbrella- decorate a umbrella with streamers and ribbon and hang it from the ceiling.
Balloons- use balloons around the room and even on the gift table. You can purchase specialty baby shower balloons in your themeor even helium balloons. Balloons can be in the shape of a baby or other baby items.
Baby Garland- Purchase these from baby store and drape them across the room. They make attractive banners.
Tulle- Create swags with tulle around gift tables across windows and over doors. If shower is outdoors then create a tent like covering over the food table can be very complimentary at a princess themed party.
Wall decorating kits- purchase these fully stocked kits with balloons wall cut outs and stickers in various baby themed in party stores or online.
Christmas lights and christmas tree as baby shower decorations- Use christmas lights to for a warm elegant feel. If shower is late evening can create a lovely backdrop. Take out the christmas tree and decorate with baby items. If shower is around christmas time them tell guests to add gifts under the tree.
Clothe Diapers- Can be used as table mats or napkins
Streamers and Baby Confetti- string streamers around the room or twirl them around for a fun look. Add confetti to tabletops
Flowers- use large potted plants in the corners of the room. Flowers are not only attractive but they smell great, add flower arrangements to thetables or hang from ceiling.
Rocking chair- Place a nice comfortable rocking chair in a spot where for the mom to be where she will be able to see everything.
Teddy Bears- Have lots of teddy bears around the room such as in corners, on shelves, tables and so on or ask guests to take along a teddy bearfor the mom to be.
Baby Sign- Put up a baby shower sign outside so that it is clear to guests where the baby shower is. A attractive welcome sign for guests.
Visit the Baby shower table centerpiece page to get fabulous ideas for centerpieces.
Fun Baby Shower Games From Baby Shower Decorations
Jul 15, 21 02:41 PM

A baby gender reveal is a whole event with these creative and fun reveal ideas and games.

Jun 03, 20 04:34 PM

Virtual baby shower games and ideas to make your virtual celebration a hit

Apr 16, 20 03:40 PM

Print these fun, free baby shower bingo games for popular baby bingo, gift bingo and nursery rhyme bingo games.