Baby Shower Game Ideas
Fresh Ideas For A Fun Party

Searching for the right baby shower game ideas to entertain your guests for your upcoming baby shower?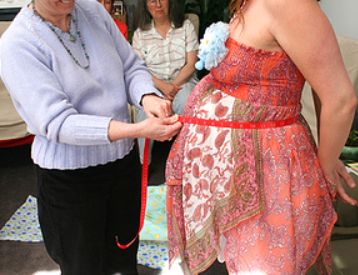 There are so many baby shower games to choose from these days such as; food games, bingo, printable or written games, coed games, diaper games...and the list goes on.
Long gone are the days when there were only those traditional baby shower games like measuring mommy's tummy size. Hostess have much to consider when choosing the right type of baby shower games to keep guests interested and entertained.
There are many ways to use games to get the desired effect you want from guests for instance,use ice breakers to get guests in the mood to celebrate and give them a chance to socialize with each other. A nice door prize game like offering scratch cards will get guests excited at the potential opportunity of winning something.
Before choosing the type of game to play you want to bear in mind that a number of things may affect your baby shower game ideas and help to determine the success of shower games such as:
Theme or the type of shower
The baby shower theme is a like a blueprint for which you plan the baby shower so it should come as no surprise that the theme would influence the games you choose, for instance a Hawaiian baby shower theme would attract some Hawaii type games such as hula or limbo contest. Using games tailor made for the theme will make the baby shower more attractive and will leave a big impression on guests.
The Expecting Mother's Personality
Since you have taken the time to plan a great baby shower for the expectant mother, it is a good idea to get her perspective and wishes. If the shower is not a surprise then ask her what kind of baby shower game ideas she has in mind, any she particularly like or don't like. Since it's her special day try have games that she would want to take part of. If she is not so fond of baby shower games and don't wish to have any then try to incorporate a nice engaging shower activity for her and the guests.
Guest List
After taking into consideration mom-to-be's wishes you need to consider your guests. Look for baby shower game ideas that guests will feel comfortable playing, so if you are having a co-ed baby shower then it would be best to have games that will grab and hold the guys attention.Also have a mixture of active and non active games so that guests who prefer one type of game to the other gets a chance to join in once if they like.
Budget
The budget does influence your baby shower game ideas because just like everything else for the shower you need to have a budgeted sum of money set aside for the games. Some hostesses who are short on time or would like to have cute baby shower printable games that match their theme, will purchase downloadable and other baby shower games.
Baby Shower games are usually pretty cheap averaging $7 for unlimited downloads. Even if you choose to make your very own games, which will save you some bucks, you may still have to spend a little on game pieces and game gifts. Here are some ideas on where to get cheap baby shower game supplies.
Length or time of Shower
The time you have available for the shower will impact the number and type of games. A baby shower is usually 2 to 3 hours long, however depending of the festivities it may run longer. Set aside 30 minutes for baby shower games simple baby shower games such as a word searches do not take a lot of time but if you plan on having a scavenger hunt then you might want to figure out how long such a game would run and if you will have time available to play more games.
---
With over a 100 games to choose from
No excuse to have a LAME party
Top 10 Funny Baby Shower Games
List of over 100  baby shower games to play
---
Fun Baby Shower Game Ideas, Tips and Advice:
A baby shower is usually 2-3 hours long so have about 2-4 prepared for your shower. If things are going well then you can go up to five games.
Have a combination of active and written games ready for guests, diversifying games this way will appeal to guests who prefer one type of game over the other.
If mom-to-be would prefer not to have games at the shower prepare a baby shower activity for everyone to get involved and socialize. This way guests will not be bored.
Have door prize games or icebreaker activities to kick start your shower, its also a good distraction while waiting for other guests to arrive.
Choose games to suit guests and mom-to-be personality, for example don't have all active games if there are mostly senior guests present.
Remember its all about mom-to-be and her little bundle of joy. Place mom in the center of games, she should be able to see, get involved and enjoy the games.
Use written games between or after active games. This gives guests a chance to catch their breath and get ready for the next round of games.
If you have kids at shower, give them a coloring page or some other activity to keep them occupied. Give mom to be the finish products asa gift.
After choosing games have a budget set aside for game supplies and game prizes so you are well prepared.
Decide on game prizes for each game. You don't have to award prizes but players tend to work harder when there is a prize on the line. After all everyone wants to be a winner.
Browse Our Funny Baby Shower Game Ideas Page
Apr 16, 20 03:40 PM

Print these fun, free baby shower bingo games for popular baby bingo, gift bingo and nursery rhyme bingo games.

Apr 03, 20 12:35 AM

A baby shower agenda will help keep everything running according to plan during the baby shower party.

Mar 25, 20 02:24 PM

Sticking to a baby shower budget is the best way to control spending. Here are some tips and advice for planning a baby shower on a budget.