Boy Baby Shower Game Ideas
Hosting a fun boy themed baby shower doesn't get much easier than with these cute boy baby shower game ideas.
We made sure that they are super easy to prepare but engaging for players and especially keeping with a boy themed celebration with some emphasis on blue.
There are tonnes of theme ideas for a boy shower including but not limited to sports the color blue and even daddy's profession or passion.
---
Blue Tray Game
A good boy themed game is blue tray game.  This is a boy baby shower game that puts emphasis on blue.
Preparation for the game entails assembling about 8 to 12 baby items that are in blue such as blue socks, blanket, rag, bottle, rattle, pacifier, a toy and so on.
Place them on a regular serving tray on the day of the shower. Place the tray with the items on a table where it can be viewed by everyone. This way it can be easily mistaken for table decoration.
Cover or remove the tray before handing out paper and pen to each person and ask them to list as many items as they can remember that were on the tray. The person with the most correct answers wins a prize.
Boy Name Word Find
Have some fun trying to make as much baby boy names from the phrase below.  Guests should be given 5 to 10 minutes to write their answers. When you call time each guest gets to read their names aloud quickly with each person ticking off any name they have on their list with the person with the most original names winning a prize.
So how many names can you get from:
"The Mommy-To-Be is Having A Gorgeous Baby Boy"
Some possible answers are:
Ben                        Bob                        Tim
Sam                       Stan                       Brian
Sammy                 Simon                      Ryan
Henry                    Hugh                       Ian
George                 Timothy                   Bret
Tommy                 Rob                        Omar
Harry                     Robby
Another way to play is by using the mom to be full name and see how many names guests can find from it.


Boy Name Word Find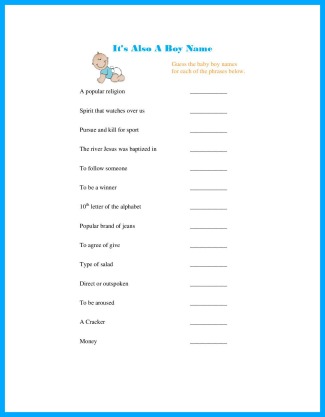 Use the phrases below to guess the baby boy names for
A popular religion
Spirit that watches over us
Pursue and kill for sport
The river Jesus was baptized in
To follow someone
To be a winner
10th letter of the alphabet
Popular brand of jeans
To agree or give
Type of salad
Direct or outspoken
To be aroused
A Cracker
Money
Answers:
Christian, 2. Angel, 3. Hunter, 4. Jordan, 5. Chase, 6. Victor, 7. Jay, 8. Levi, 9. Grant, 10. Cesar, 11. Frank, 12. Randy, 13. Graham, 14. Cash
Get this game now by clicking the link, print and play.
Boy Bingo Game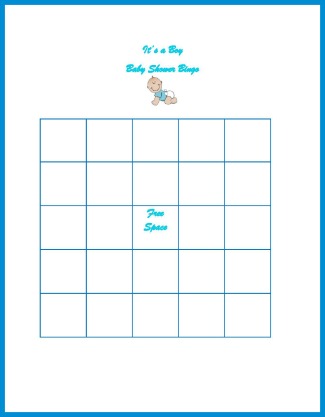 We love Bingo and your guests will too.  Simply print a free version of this game for each player and hand them out with a pencil.
Ask everyone to fill in baby boy related items in each square and then from a list that you prepared or from the one below call out each item.  The person or persons that get five in a row shouts bingo and they win a little game prize you have ready.
Here is a list of words you can use:
Truck

ball

diaper

wipes

blanket

wash rag




rubber duckie

diaper bag

car seat

bottle

PJs

booties




diaper cake

crib

play pen

bouncy seat

walker

rattle

teddy bear

soap

socks

powder

comb

story book

pacifier


It's A Boy Baby Name Race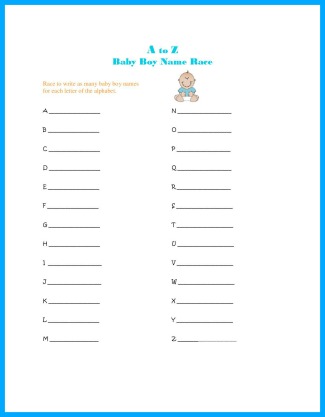 Everyone loves a good race. So let everyone give mommy-to-be some baby name ideas while racing to get names for each letter.
A to Z race is a fun, fast-pace boy baby shower game that is a  creative way of getting friends and family to give you their ideas for names.
To play just print a copy of this free printable A to Z game sheet and place the timer for 1 to 2 minutes give each per

Jump from Boy Baby Shower Game Ideas to list of Games

Fun Baby Shower Home Page
Jul 15, 21 02:41 PM

A baby gender reveal is a whole event with these creative and fun reveal ideas and games.

Jun 03, 20 04:34 PM

Virtual baby shower games and ideas to make your virtual celebration a hit

Apr 16, 20 03:40 PM

Print these fun, free baby shower bingo games for popular baby bingo, gift bingo and nursery rhyme bingo games.