Girl Baby Shower Games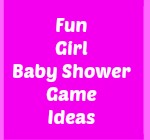 So mommy to be is expecting a cute little baby daughter.  We all know that girls just want to have fun and that is why we put together some really interesting girl baby shower games. 
Bring excitement to a whole other level for mommy and friends with these game ideas and activities.
Feel free to use elements of pink and lavender in games and prizes to compliment this gender themed party.
Skip down and you will find:
Free printable games
unique baby shower games
Activites foe a girl themed party &
Twin girls baby shower games

---
Ideas for Girl baby Shower Games

Pinkie Guess

We love the tray game and so we decided to add some Pinkalicious-ness (our special word for it) in celebration of our theme.
To prepare you will need to buy some small items for the baby and  yes they have to all be pink. 8 to 10 items will do, such as socks, shirt, rag, bottle, rattle, pacifier, a toy, onesie, booties, etc. You can even add more than one type of item, for instance 2 pacifiers or 2 rattles. This will really show up those who were really paying attention.
On the day of the party place them on a regular serving tray.  Place the tray with the items on a table where it can be viewed by everyone. This way it can be easily mistaken for table decoration.
Cover or remove the tray before handing out paper and pen to each person and ask them to list as many items as they can remember that were on the tray. The person with the most correct answers wins a prize.
Of course you will hand the items over to mommy when the game is over
Girl Name Word Find
Have some fun trying to make as much baby boy names from the phrase below.  Guests should be given 5 to 10 minutes to write their answers. When you call time each guest gets to read their names aloud quickly with each person ticking off any name they have on their list with the person with the most original names winning a prize.
So how many names can you get from:
"The Mommy-To-Be is Having A Gorgeous Baby Girl"
Some possible answers are:
Abby  


Tia

Marie

Olivia

Brianna

Tina

Thea

Georgia

Ramona

Gaby

Gina

Alia


Beverly

Layah

Beth

Bethany

Lynn

Laurie


Lara

Samantha

Lena

Rosie

Simone

Tammy

Another way to play is by using the mom to be full name and see how many names guests can find from it.



Its also a girl Name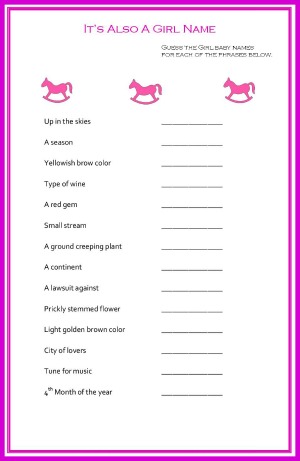 Use the phrases below to guess the baby boy names for
Up in the skies                                               
A season                                                     
Yellowish brow color                         
Type of wine                                      
A red gem                                          
Small stream                                       
A ground creeping plant                    
A continent                                        
A lawsuit against                               
 Prickly stemmed flower                     
 Light golden brown color                  
 City of lovers                                     
 Tune for music                                   
 4th Month of the year    
Answers:
Heaven, 2. Autumn, 3. Amber, 4. Brandy, 5. Ruby, 6. Brooke, 7. Ivy, 8. Asia, 9. Sue, 10. Rose, 11. Hazel, 12. Paris, 13. Melody, 14. April
Get this game now by clicking the link, print and play.
Girl Bingo Game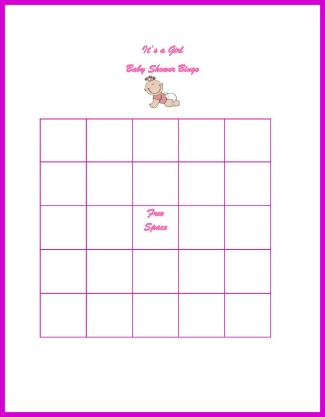 We love Bingo and your guests will too.  Print a free version of this game for each player and hand them out with a pencil.
Guests are asked to fill in a baby related word randomly or from a list given. Lines diagonally or vertically crossed off gets to shout out Bingo

Here is a list of words you can use:
Truck

ball

diaper

wipes

blanket

wash rag




rubber duckie

diaper bag

car seat

bottle

PJs

booties




diaper cake

crib

play pen

bouncy seat

walker

rattle

teddy bear

soap

socks

powder

comb

story book

pacifier


It's A Girl Baby Name Race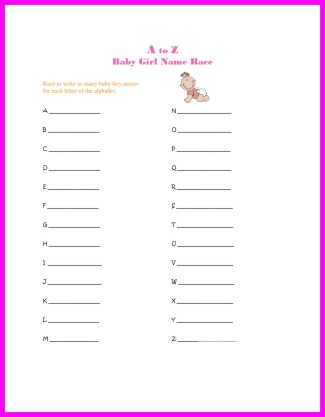 How fast can each of your guests fill in some unique names for each letter of the alphabet. Really competitive and may give mommy a few more names to add to list of possible baby names.
To play just print a copy of this free printable A to Z game sheet and place the timer for 1 to 2 minutes give each person a game sheet and let the race begin.
Activities for a Girl Baby Shower

Make cute clips and bows
If mommy prefers not to have games then a nice activity could be making hair bows and hair clips for the little princess, after-all which mother doesn't like to adorn their baby's head with pretty bows and clips.
Gather supplies before party and place them all on a table with a little sign with a sort of mini tutorial to help guests along. If you can try to have a variety of items so the ladies can creative. They can make head bands, hear clip and hair bows or even decorate little baby hats.
Wise Words

Another fantastic idea is to make advice card for baby. As women we need to pass on our sage advice weather it be recipes for her to try out with mommy or general advice about life and love.
Twin Girls Baby Shower Games

Mom-to-be is expecting the perfect pair. In honor of her twins we thought we will help with some ideas for girl twin games.
Matching Pair/Sock Game
The aim of this game is to find a matching pair to the item as quickly as the player can identify them.  Pairing up baby socks is a funny shower game many enjoy but you do not have to limit yourself to only socks.
If its readily available to you try hair clips, shoe laces, earrings, photos of animals & their young or even baby shoes

Jump from Girl Baby Shower Games and Ideas to list of Games

Fun Baby Shower Home Page
Jul 15, 21 02:41 PM

A baby gender reveal is a whole event with these creative and fun reveal ideas and games.

Jun 03, 20 04:34 PM

Virtual baby shower games and ideas to make your virtual celebration a hit

Apr 16, 20 03:40 PM

Print these fun, free baby shower bingo games for popular baby bingo, gift bingo and nursery rhyme bingo games.