Baby Photo Guess Game
Baby Photo Guess Game is a cute and funny baby shower game idea that is very popular at baby showers. Baby photos are so cute who wouldn't enjoy looking at them.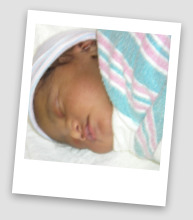 It can be surprising to see how totally different that friend or family member looks now that they have all grown up. Some pictures will definitely keep you guessing.
Below you will find a variations to this game, whichever variation you choose it will be fun for mom and guests just the same.
In the invitations tell guests to take along a baby picture of themselves to the shower or you can ask them to mail them to you so you can prepare the game before the shower. Make sure to collect a baby picture from the mother as well.
You will need:
Baby pictures of guests
poster board
paper and pen for each player
How to Play:
Mount pictures on a board or surface where all the guests can see. Number photos 1 to __ depending on how many guests are participating in this game. Give each guests a paper and pen to write down the number picture and the name of the person the think the photo is of.
When they have all made their guesses call out the number and the name of the guests to come up front so everyone can see the resemblance they have with their baby picture (some people won't look anything like their picture). The guest with the most correct wins.
Another alternative to the baby photo guess game is Mommy baby picture game where you will still ask guests to submit their pictures but you will get a few of the mom-to-be baby pictures and add them to the board. Guests are asked to try to guess the numbers of all the mom-to-be's baby pictures.
Variation of the the game:

Post all the pictures of guests on the board and ask the mom-to-be to come up and guess which baby shower guessgoes with which numbered photo. This is great fun watching her stumble over who she thinks is in each photo. Warn guests not to give her any clues.
A nice game gift that your winners might enjoy is awarding picture frames to the winner. If mom-to-be is guessing the photos then for each correct guess she makes that person in the picture gets a little picture frame or a photo key-chain.

Baby Photo Guess Game to More Popular Baby Shower Games

Jul 15, 21 02:41 PM

A baby gender reveal is a whole event with these creative and fun reveal ideas and games.

Jun 03, 20 04:34 PM

Virtual baby shower games and ideas to make your virtual celebration a hit

Apr 16, 20 03:40 PM

Print these fun, free baby shower bingo games for popular baby bingo, gift bingo and nursery rhyme bingo games.