Baby Shower Gifts For Mom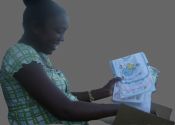 Baby shower guests are surprising the guest of honor by getting baby shower gifts for mom. The aim of the baby shower is to celebrate with the parents while providing much needed gifts for the baby. Taking it a little further by presenting a little extra baby shower gift for mom is a nice gesture.
Giving her something that will be helpful for her in her new role like a parenting book. Spa treatments and dinners are a way to help her cope with thestress that inevitable accompanies pregnancy and motherhood. I hope these gift ideas will help you pick out a suitable gift for the guest of honor.
Baby Shower Gift Ideas for Mom:
Gift Basket
Spa Treatment will help relieve stress
Child proofing book or other parenting books
Offer to baby sit after the baby is born so the parents can take a night off for some quality time together
bath oils to unwind with a bottle of wine
Mother's day basket- be the first to gift the new mom with a mother's day gift
Stack of magazines or her favorite novels for late night feeding
gift certificate to hair salon or her favorite store
Prepare some frozen dinner which will no doubt come in handy when the baby comes
From baby shower gifts for mom to more baby shower gift ideas