Make a Splash with a Diaper Cake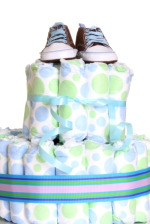 Diaper cake genius idea right?...
When I saw my first cake made from diapers I was like "WOW" then my next thought was "I wish I had gotten one of those". Its a pretty impressive cake!
A baby shower diaper cake is totally made up of diapers and is usually embellished with various baby items. It is not only gorgeous but versatile as well:
They make the perfect baby gift because its unique and so very useful for mom.
They are also a great ice breaker. Take a diaper cake into a room and it is the perfect conversation starter. Everyone will compliment you on your great gift, just make sure not to take all the attention away from the guest of honor.
If you are looking for a centerpiece that has the wow factor then a diaper cake can deliver. Its cute, attractive and very complimentary to the baby shower theme.
Use your diaper cake to spur on a little competition amongst guests. Guests can play diaper cake guess game where they are given a piece of paper to write down all the baby items they think are in the diaper cake.
If you are thinking of getting a baby shower diaper cake you can browse many online stores. However buying a diaper cake can be very expensive they vary from 40 to over a 100 bucks. If you don't have that kinda money to spread around then I suggest you make your very own diaper cake. Don't be scared. A diaper cake may look complicated and a little intimidating but its very simple to make if you follow the clear easy instructions below.
How to make a diaper cake
First you will need:
50 to 80 diapers depending on how many layers you want to have. This will make a 3 layered cake, get more diapers if you want more layers)
16" Heavy cardboard ( you can also use a cake plate or tray for the base)
scissors
1 bag of rubber bands of various sizes
10 feet of 1" ribbon in chosen color
clear adhesive tape
decorative items such as trimming, pacifiers, toys, baby socks, rags, etc.
decorative cake topper
baby bottle or a couple wooden dowels( this acts as a center-base to keep the cake together)
Time to Make your own diaper cake
Step 1
first prepare your diapers by rolling them and fixing them into each layer
Roll diapers starting from the outside tip of diaper going down
attach a rubber band around each diaper after rolling and continue until all your diapers are done.
Step 2
Next take the baby bottle and place it on the cardboard, fill it with candy as a treat for mom if you like and add a big rubber band around it. The bottom base will have 3 rings of diapers. For the first ring dd 6 diapers packing them close inside the rubber band around the bottle, add a couple more diapers if its not compact enough. Place another big rubber band around the ring and start packing diapers inside the rubber band for the second ring. this ring will have about 12 diapers. Add another big rubber band and repeat the process until you have three rings in your bottom base.
Repeat the procedure for the 2nd layer of the diaper cake with 2 rings of diapers.There will be a space in the middle near the top of the 2nd layer where you can add another baby bottle, or a baby blanket, small baby power, etc.Add the third layer of the diaper cake, this will only have 1 ring of diapers.
Step 3
Now to decorate your cake:
Add ribbon around each layer of the diaper cake to cover the rubber and use tape to secure it. (some women use receiving blankets instead of ribbon) now add decorative items by tucking them around the cake.
From Diaper Cake to Other Baby Shower Gift Ideas
Jul 15, 21 02:41 PM

A baby gender reveal is a whole event with these creative and fun reveal ideas and games.

Jun 03, 20 04:34 PM

Virtual baby shower games and ideas to make your virtual celebration a hit

Apr 16, 20 03:40 PM

Print these fun, free baby shower bingo games for popular baby bingo, gift bingo and nursery rhyme bingo games.