Baby Shower Agenda- Keeping the Baby Shower on Track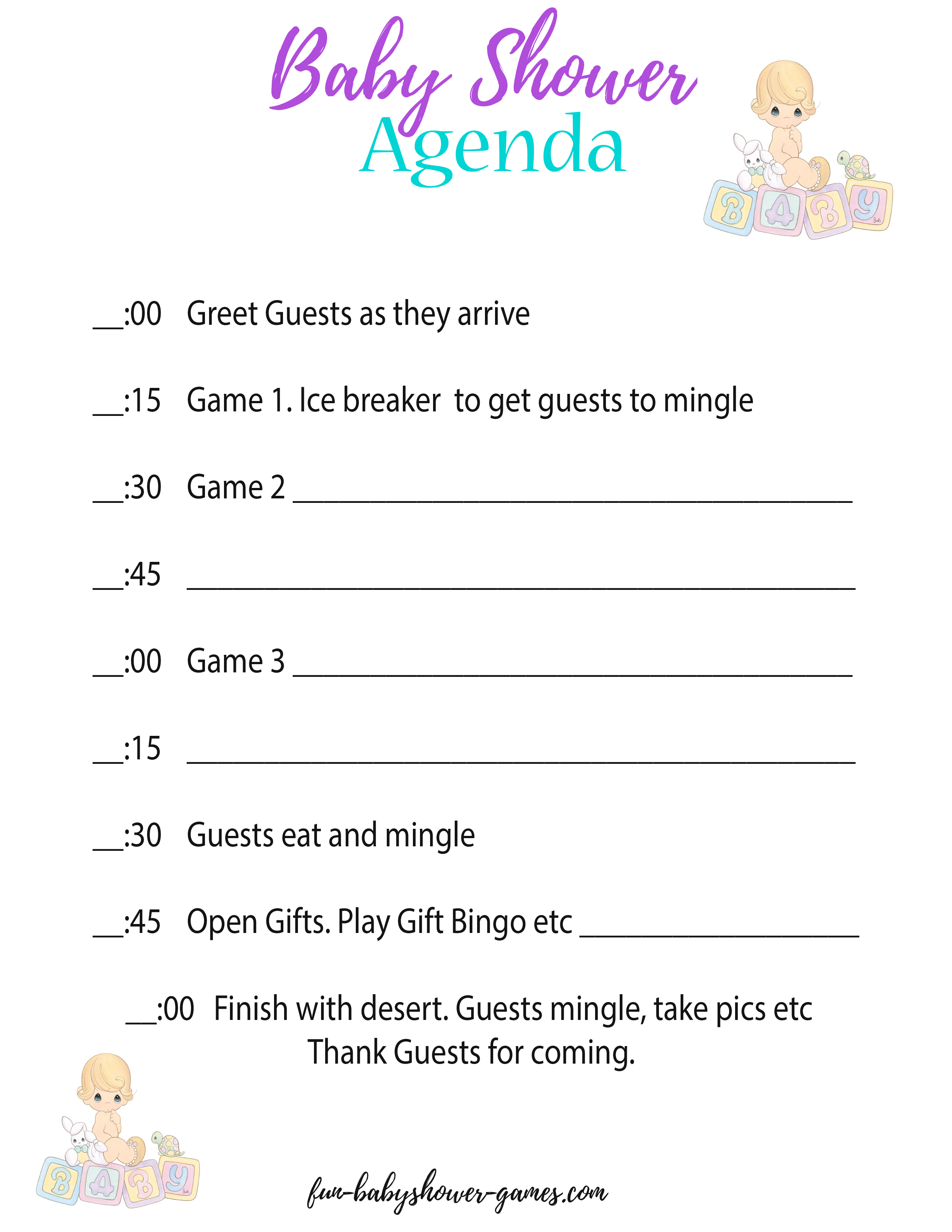 Having a baby shower agenda will help keep everything running according to plan during the baby shower party. 

As the hostess you will have your hands full making sure everyone is comfortable and everything is going smoothly. Impress all the attendees with how well organised the party was.
You did all the prep work for the big day and now its time for all your hard work to come together but you still have the day to get through and that means that you need an agenda for the days events.
It is a good idea to have a baby shower timeline ready from the moment the guests arrive to the time you to bid them goodbye. This way you will ensure that guests are entertained and having a fun time.
A baby shower is usually 2 to 3 hours long. This is more than enough time to mingle, have some tasty treats and open presents. Any longer and the expectant mother might start to get tired.
Use this baby shower schedule of events as a guide for planning so things do not run too long or end too soon because of lack of coordination.
How to organise your baby shower party
Below we have outlined for you a good flow for the baby shower party. Use it as a guide and your guests will surely be impressed with your hosting skills.
Mom to be arrives and is comfortably seated
Guests arrive and are greeted by hostess; advice guests where to place gifts
Introduce guests and start on any ice breaker activities you may have planned
Put out food and beverages for guests to partake
Play games or activities have planned
Open gifts
Have dessert
Mingle, take pictures and wrap up


Feel free to adjust the baby shower agenda to include activities you like or to include last minute tasks.
Download a copy of this free printable baby shower agenda so you know you have it all covered.
Navigate From Baby Shower Agenda To Baby Shower Planning
Jul 15, 21 02:41 PM

A baby gender reveal is a whole event with these creative and fun reveal ideas and games.

Jun 03, 20 04:34 PM

Virtual baby shower games and ideas to make your virtual celebration a hit

Apr 16, 20 03:40 PM

Print these fun, free baby shower bingo games for popular baby bingo, gift bingo and nursery rhyme bingo games.