Baby Shower Budget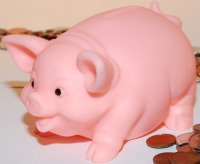 One of the first things to consider when planning a shower is the baby shower budget. You have the honor of throwing that special baby shower for a friend, sister or relative but unless you have unlimited access to funds the perfect party for the expectant mother might turn out to be a nightmare for you when the bills roll in.
You can have a great baby shower with all the trappings without breaking the bank by being creative and sticking with a baby shower budget.
Here are some tips and advice to help you host the best baby shower on a budget
Prioritize your expenses. Make a list of your major expense and see how you can make cuts. Usually yourmajor expenses are Food, Location and rental of supplies such as chairs and tables.
Consider co-hosting with 1 or 2 more people not only will you share the expenses but you will also share the work load.
Contain the shower sometimes less is best. Let the guest of honor know of any budget limitations you have and cutthe guest list where possible. No need to invite friends of friends.
Host the baby shower at your house or the expectant mother's. That way you do not have to rent. Just give you house a good clean and decorate.
Start shopping around and be on the look out for deals as soon as you decide to throw the shower. Look for specialson items that can be used for favors, prizes, mommy's gifts, supplies, decorations, etc.
Do as much as you can for yourself. Consider making your own invitations or baking the cake. This will save you some money that can be put towards something else. You can always ask for help with whatever project you take on.
Ask for volunteers or donations for baby shower supplies such as chairs, tables and serving trays.
Use decorations that you have stored away or borrow some from a friend
Make your own games using some of the great ideas on this site, you can also find games you can download for free.
Use your own utensils or borrow what you can from others such as dishes, cups, serving trays and so on.
Buy in bulk for food and other such items, it will be cheaper.
When shopping for food use items that are in season; fruits, vegetables and other food stuff which are out of season will most likely be more expensive.
Go to your nearest dollar store and shop for supplies, you can find cheap, cute items such as candles and picture frames for game prizes and even stuff for favors and decorations.