Baby Jeopardy
Baby Jeopardy is a clever fun game for fans of Alex Trebek. Break up players into teams for instance men against women or split it even and see just how many of your guests really know about babies.
We made it easy created a free baby jeopardy game for you with some good catergories and even made it better by adding questions and answers.
All you need is to print the template or if you have a chalkboard or whiteboard you could write out the categories and value for each question.
How to play:
Have 1 person who keeps score.
Can have up to 5 contestants or break them up into teams.
Regular jeopardy rules apply. Answers must be given as a questions. Instead of a buzzer players either raise their hands or give each player or team a turn and if they get the answer incorrect then the question passes to the next person or team.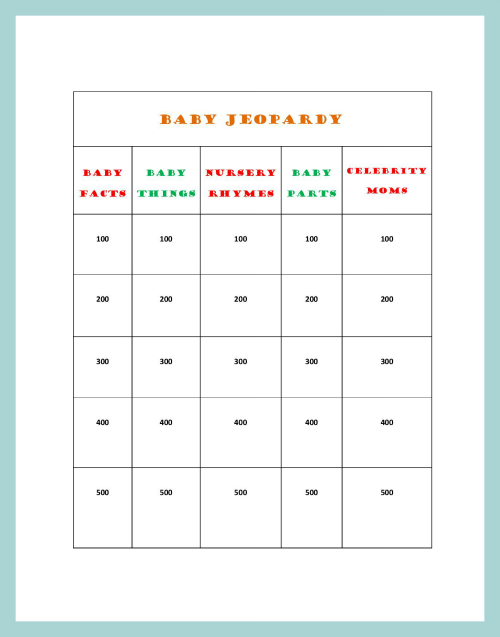 Download a printable copy of this game complete with categories, questions and answers.
Jul 15, 21 02:41 PM

A baby gender reveal is a whole event with these creative and fun reveal ideas and games.

Jun 03, 20 04:34 PM

Virtual baby shower games and ideas to make your virtual celebration a hit

Apr 16, 20 03:40 PM

Print these fun, free baby shower bingo games for popular baby bingo, gift bingo and nursery rhyme bingo games.