Baby Shower Checklist for Planning the Perfect Baby Shower 
A baby shower checklist is the perfect tool for baby shower hostesses. There can be so much to do when trying to pull off the perfect baby shower.
It can be overwhelming trying to remember the big stuff like food and decorations and then before you know it you forget the little things like getting batteries for the camera or ice for the drinks.
That's why a baby shower planning checklist can be invaluable, its a written guide that helps you to stay organized and on schedule from the moment you decide to plan the party through to the very day of the celebration.
Use the baby shower checklist below by adjusting it to fit the time-line you have available to plan the party.
---
Baby Shower Checklist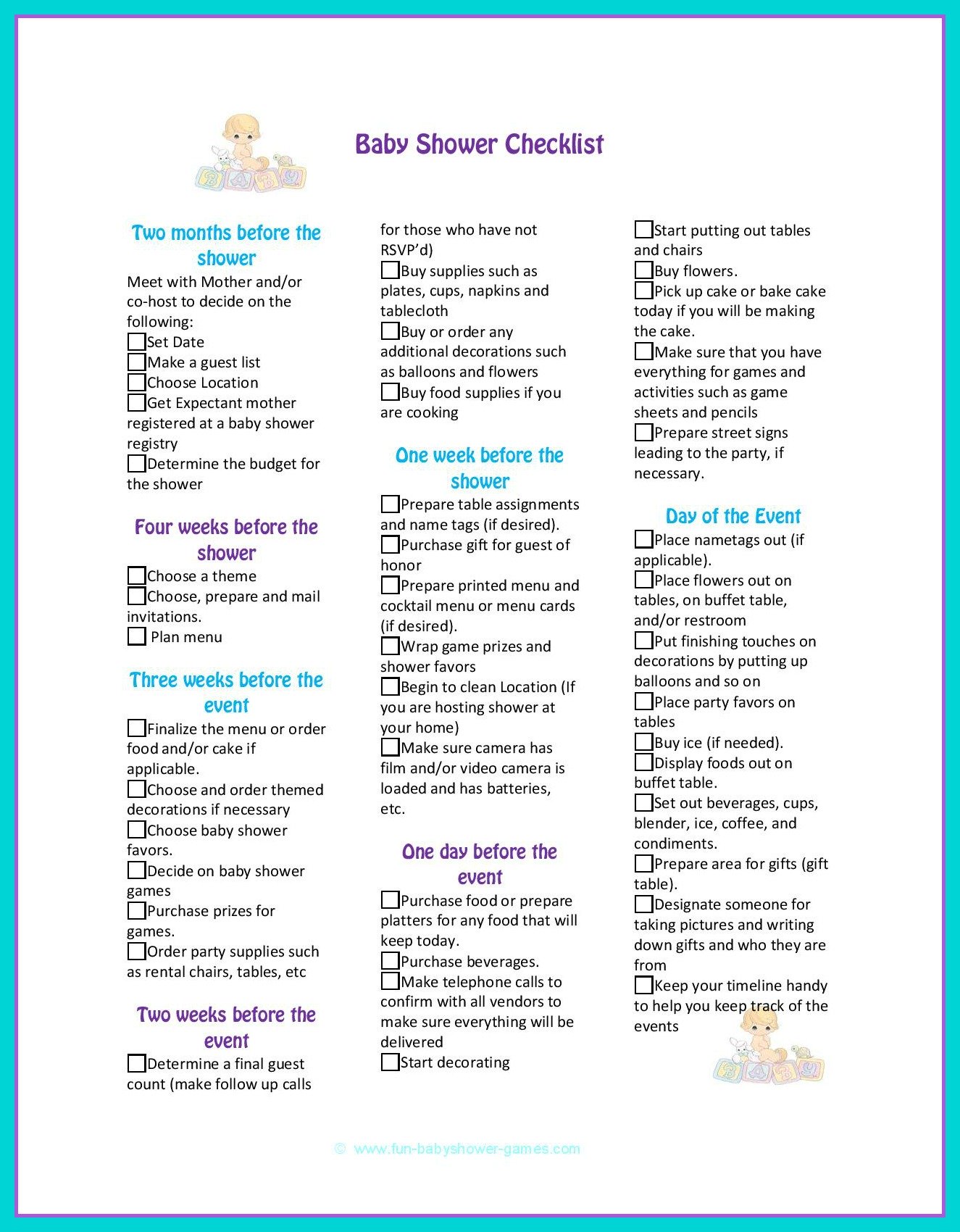 Two months before the Baby Shower
Meet with the mom-to-be and co-hostess to decide on the following:
Create the baby shower guest list
Determine a budget for the baby shower
Set the date of the baby shower
Decide on the baby shower location
Decide on the baby shower theme
This is the time mom-to-be will get registered at a baby registry if she is not already

One month before the Baby Shower
Select and mail the baby shower invitations – include directions
Plan for the baby shower menu

Three weeks before the Baby Shower
Order the baby shower cake
Order balloons and flowers if they are planned decorations
Order tables and chairs if you're hosting the baby shower at a home
Order any other special entertainment or surprises such as photographer
Two weeks before the Baby Shower
Buy baby shower decorations, game prizes and party favors
Buy plates, cups, eating utensils, tablecloths, etc. If you're hosting the baby shower at a home
Finalize the baby shower menu with the Caterer or Restaurant(if applicable)
Plan which baby shower games you want guest to play
One week before the Baby Shower
Establish a final count on your baby shower guest list
Call invited guests who have not RSVP'd to the baby shower to get a final answer
If you ordered cake, flowers, tables, chairs etc, call to verify that order will be ready
Wrap baby shower game prizes and party favors
Buy film and batteries for camera and video recorder
If you're hosting the baby shower at a home, begin to clean the home (do all the big cleaning that you can)
Prepare a printed baby shower menu, table assignments and name tags (if desired)
Buy your baby shower gift for mommy-to-be
The day before the Baby Shower
Begin decorating if you're hosting the baby shower at a home – you will need tape and scissors, ect
Set up tables, chairs, food table, drink table, etc.
Buy baby shower drinks, also make sure to get bottled water
If you're cooking anything for the baby shower, do whatever you can today (eg make food trays that will keep well for the next day)
Today is the day if you are baking the baby shower cake yourself
Get the baby shower games ready – make sure you have plenty of pencils
Prepare a timeline for the day of the baby shower so that you stay on schedule. The timeline should include last minute tasks before the baby shower begins and a schedule to keep the party on track (baby showers are generally 2 to 3 hours)
Double-check that every item on the checklist before "The Day of the Baby Shower" is done
The Day of the Baby Shower!
Follow your baby shower timeline to stay organized and calm
Pick up balloons, flowers and/or other centerpieces if you have ordered them
Pick up the baby shower cake if you are not baking it yourself
Finish setting up baby shower decorations and put party favors out on a table
Buy plenty of ice for drinks and setup up drinks and cups
Set out food on tables if you're hosting the baby shower at home
Designate certain guests to take pictures and video of the baby shower
When mommy-to-be is opening baby shower gifts, keep trash bags close by
Write down the baby shower gifts and who they were given by – use the Invite/RSVP list to make sending thank you cards easy for mommy-to-be
Have fun and rest assured that you have planned a wonderful day for mommy-to-be!
Download a printable version of this baby shower checklist

Baby Shower Game Planner
So we are all about bringing the fun factor to baby showers so guests are not bored or left watching the clock.
Here is how the game planner checklist will help you;
Download our free game planner guide so you know what games to play and all the materials you need to prepare them. There is also a section for you to 
Download Baby Shower Games Checklist
Baby Shower Gift List
Baby shower gift list is used to help the mom to be keep track of which gift was given by whom.
Keeping organized this way helps her when its time to send out thank you cards.
Also can double as a guest list so you can be reminded of those that attended.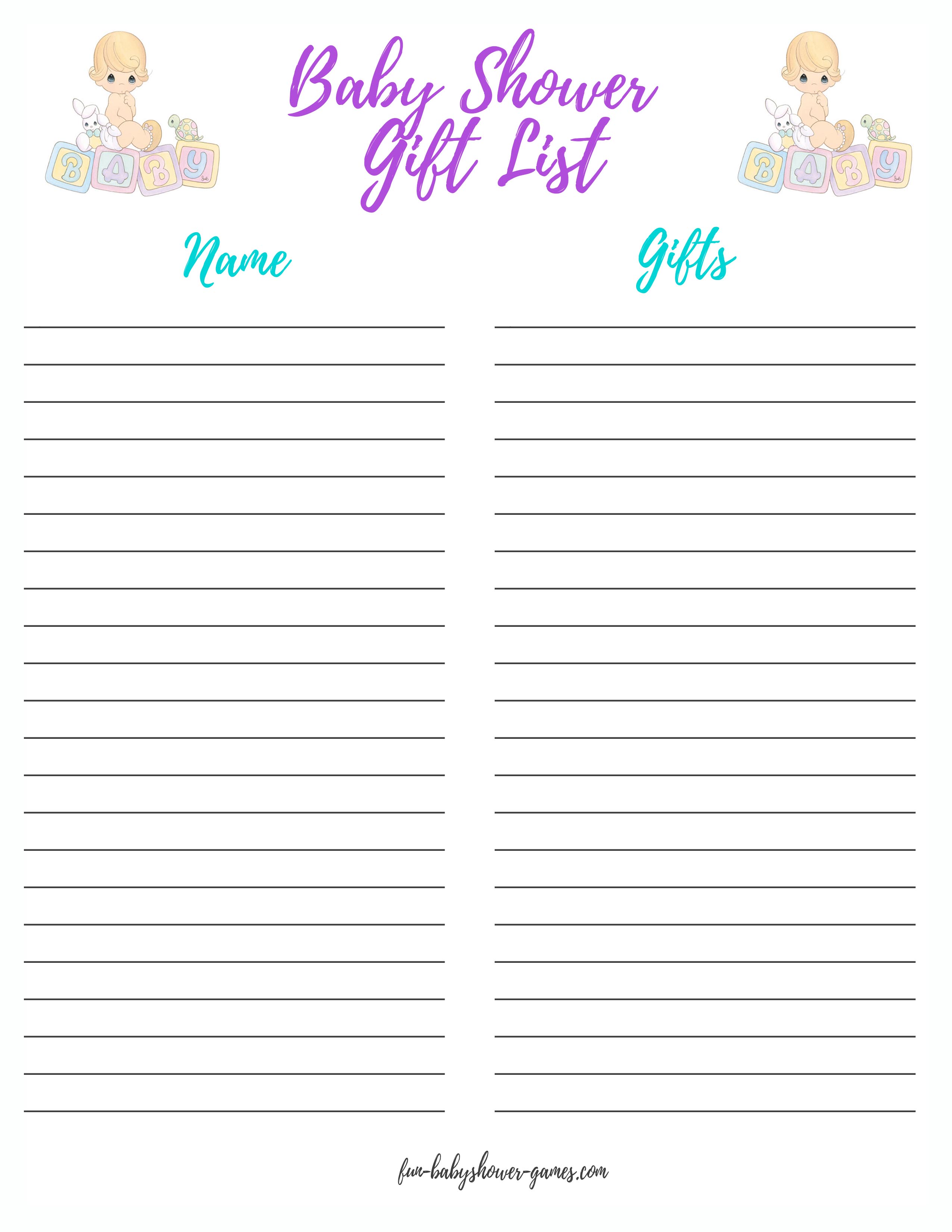 Download this free printable gift list here.
Baby Shower Agenda
Our baby shower agenda is such a useful tool to help keep the baby shower running smoothly.
The agenda is basically a program of the planned events at the party which you will use to help you keep the day in order.  Download a copy of your free baby shower agenda here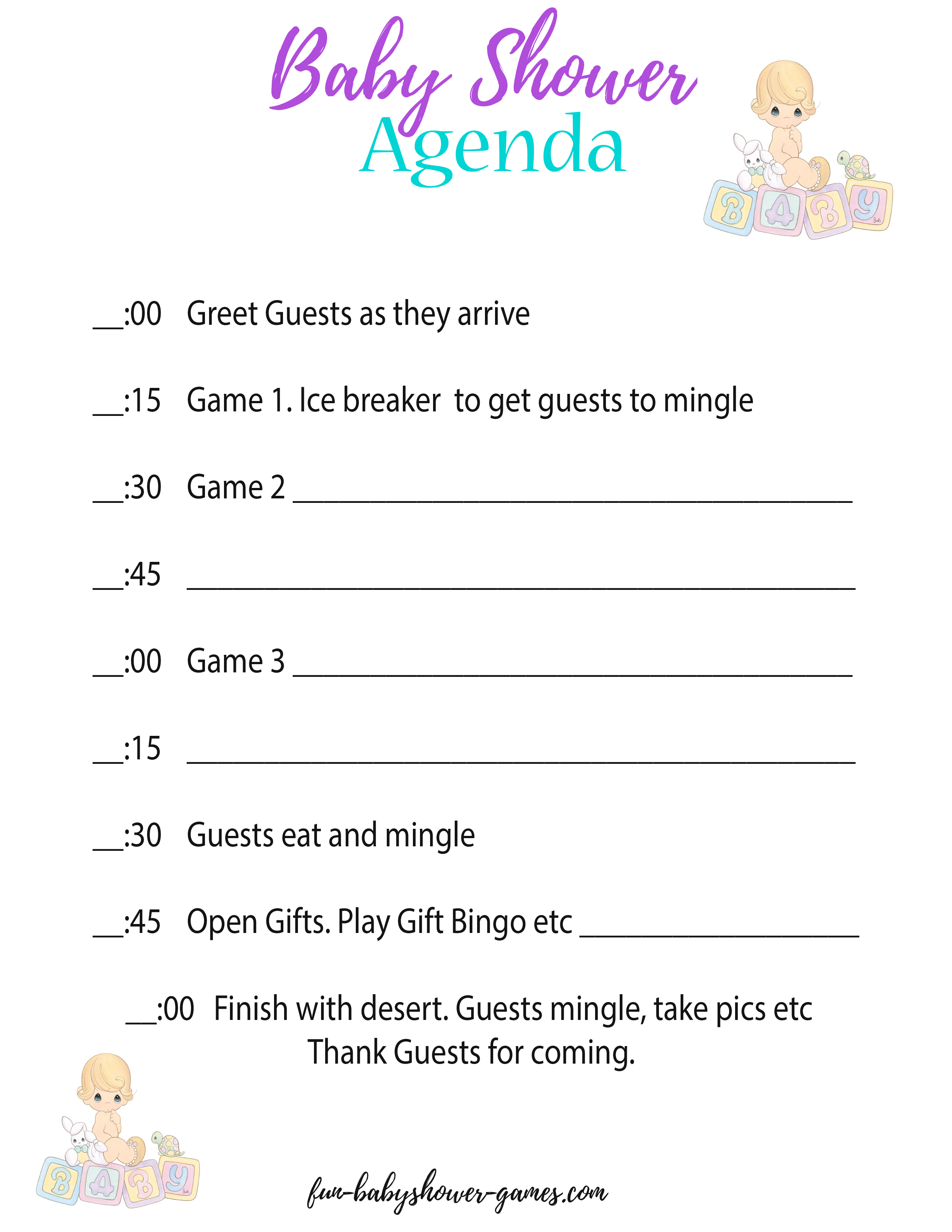 Go from baby shower checklist to baby shower planning ideas
---
Jul 15, 21 02:41 PM

A baby gender reveal is a whole event with these creative and fun reveal ideas and games.

Jun 03, 20 04:34 PM

Virtual baby shower games and ideas to make your virtual celebration a hit

Apr 16, 20 03:40 PM

Print these fun, free baby shower bingo games for popular baby bingo, gift bingo and nursery rhyme bingo games.