---------------------------------
Baby Shower Signature Race Game
---------------------------------
Ice breakers just got a whole lot more interesting with this baby shower signature race game.
The whole point of an ice breaker is to loosen up your guests and prepare them for the fun times ahead.
The signature race baby shower game is a great way to mingle and learn interesting information about other guests. No doubt guests will find that they surprisingly shared experiences.
Its up to players how they approach others to get them to sign.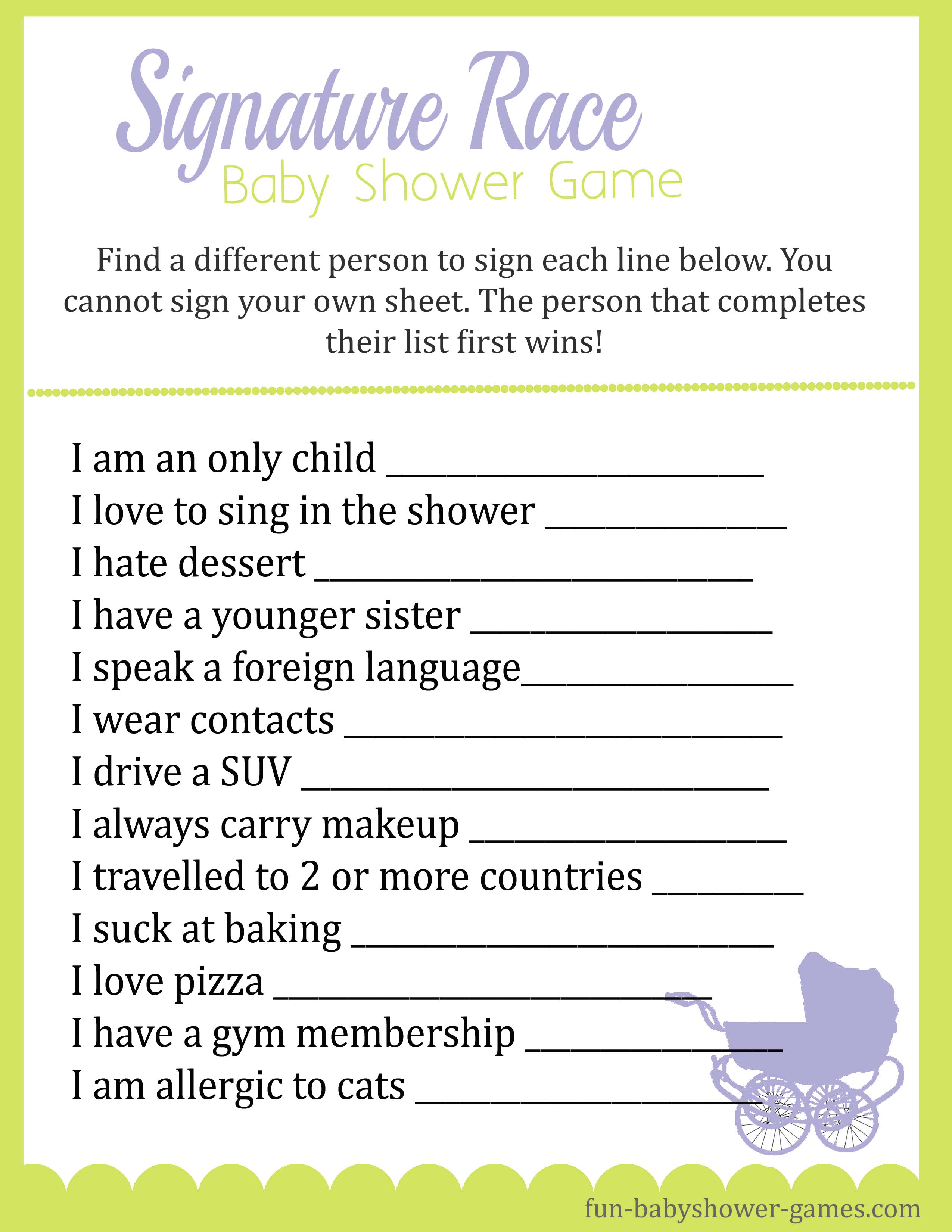 Download this fun free printable signature race game now. Print cut and play. There are two 5x7 game sheet for your convenience.
--------------------------------------------
How to Play the Signature Race Game
--------------------------------------------
To play the game you will need to have a game sheet with a list of "I have" or "I did" sentences.
A player cannot sign their own game sheet.
Find a different person to sign each item.
The player that completes their list first is the winner.
Here are some questions that will certainly get people moving:
My 1st pet was a dog __________
I am a middle child ___________
I hate dessert ____________
I can play a musical instrument really well _________
My favorite sport is football _________
I speak a 2nd language __________
I have a gym membership _______
I traveled from out of town to attend the shower _____
I have known mom-to-be for over 10 years _______
I have traveled to another country since the past year _____ 
Wore a superhero/marvel Halloween costume ________
Do not know how to cook ____________
I love country music _________
Am a social media junkie _________
I have a nickname for the mom-to-be _______ 
Have 2 or more middle names ________
I have never owned an iphone or apple device ______
From signature race game to more baby shower icebreaker ideas
See Fun Baby Shower Games Home
Jul 15, 21 02:41 PM

A baby gender reveal is a whole event with these creative and fun reveal ideas and games.

Jun 03, 20 04:34 PM

Virtual baby shower games and ideas to make your virtual celebration a hit

Apr 16, 20 03:40 PM

Print these fun, free baby shower bingo games for popular baby bingo, gift bingo and nursery rhyme bingo games.