My Water Broke Baby Shower Game
My water broke baby shower game is a fun baby shower game activity that will engage all the baby shower guests.

Some guests will determinedly try to get their baby delivered before anyone else but you can still proceed with other activities and games while everyone is waiting on their baby to be born.
Delivering a baby is hard work but when the baby comes the joy is unimaginable, that's one lesson of this game.
Lets Play
Baby shower my water broke game


You will need:
Plastic babies
Ice tray
Plastic cups
How to play:
·         To prepare this game, buy little plastic babies at a party store.
·         Freeze babies in ice cubes.
·         When guests arrive give each guest a plastic cup with an ice cube with a frozen baby.
·         Instruct guests that they are not suppose to touch the ice cube but they can do whatever else they can think of to deliver the baby.
·         The winner is the first guest whose ice has melted so that the baby is delivered and shouts out "my water broke". Give that person a prize for being the first person to deliver.
This is especially fun when you are playing with guys and one shouts that their water broke. Guests will try every trick they can think of to deliver their baby such as blowing on the ice or running around with the ice. I broke my water baby shower game will be a fun game activity for any baby shower theme!
My water broke game FREEBIE

Below you will find templates with a cute little rhyme that tells guests how to play.  All you need to do is print and cut out the template and place it on table in a 5x7 frame or in a stand of some sort where it can be easily seen.
Click on the picture to be taken to a download page.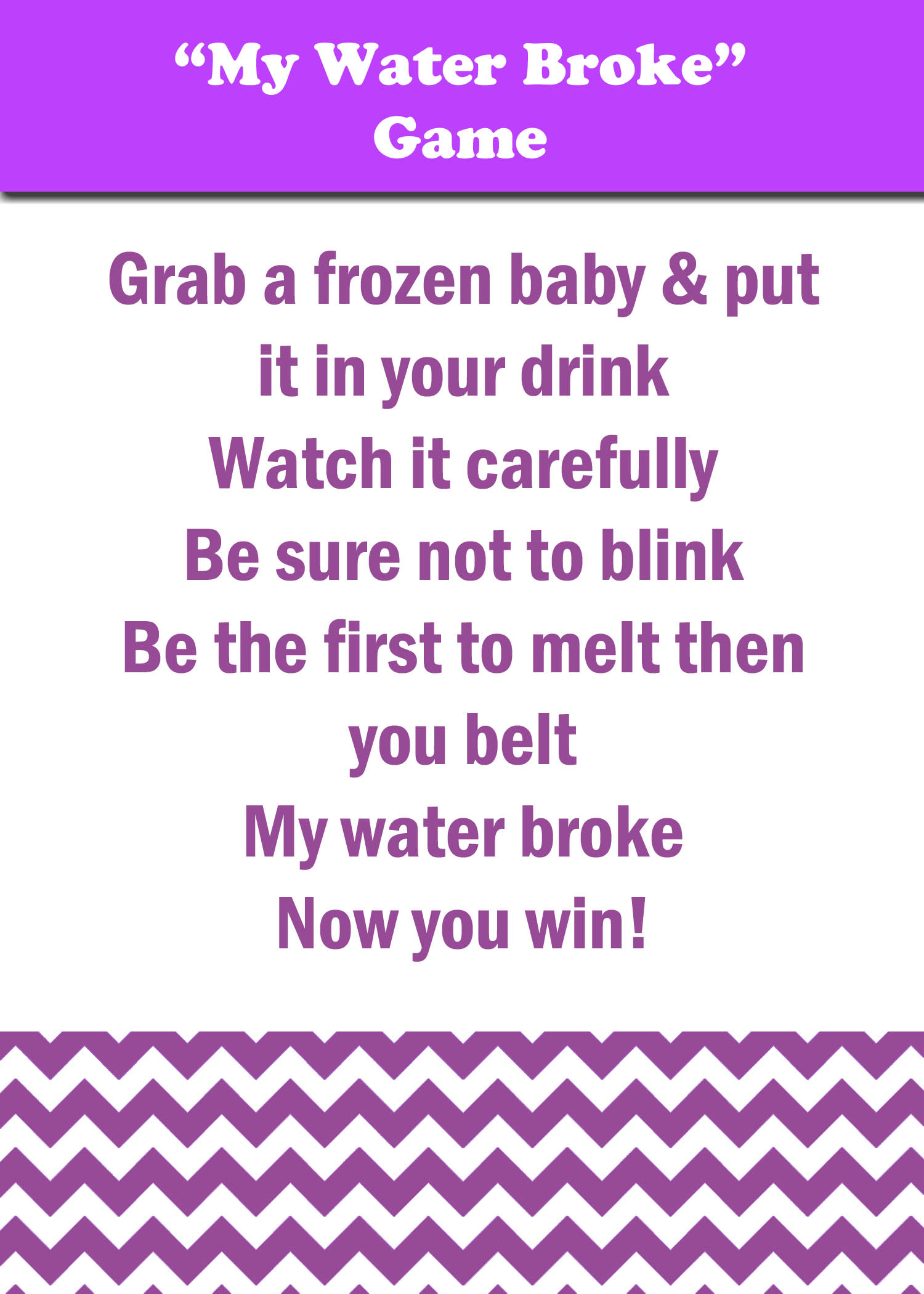 My water broke baby shower game to more baby food games