Baby Shower
Hair Bow Station
Where mommy is expecting a girl a hair bow station is a cute activity that mom will love and appreciate. All mommies like to dress up their little angel with colorful hair bows, clips and head bands so this gift is a definite must have.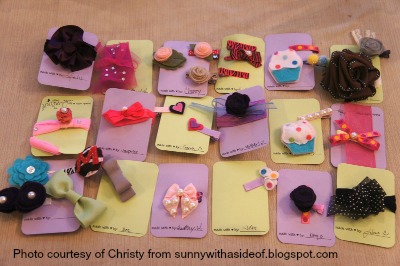 This activity gives guests an opportunity to give a cute gift and ladies can all sit and catch up while doing it.  Hair clips are fairly easy to make so design can range from just basic to really intricate depending on the level of creativity of each person. Best of all they are unique to each individual.
Some prep work has to be done before the party so you need to go to dollar store and favorite hobby store or even order online;
Supplies should include;
French clips
alligator clips; single prong and double prong
Ribbons different sizes
appliqués
headbands
cotton beanie hats ( if you're decorating hats)
hair flowers
Embellishment such as
Rhinestones
Ribbon slides
Buttons
Glue gun
Heat sealer
Scissors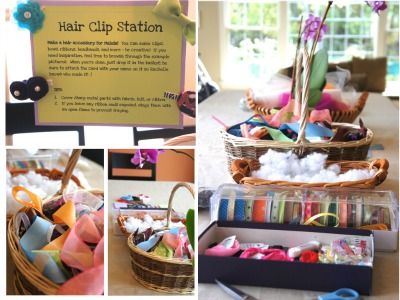 This awesome hair clip station photo is courtesy of Christy from sunnywithasideof.blogspot.com. Thank you Christy :)

Display supplies on table and have some comfortable seating. You can have a little mini tutorial or instruction sheet displayed for novices to help them along but it's a pretty easy to do.
What is super great about this activity is its range since you can make baby hats (for baby in winter time) simply buy some little cotton beanie hats and use your ribbons, bows, flowers, rhinestones and buttons to accessorize.
Hair clips and hair bows
 Head bands
Bow ties for Boy
Instead of a hair bow station you can set up a bow tie or hat station if mommy is having a boy. Use appliqués to add popular characters to hat such as angry birds, monster, sesame street and so on.
 So have snacks handy nearby for ladies to munch at while they work. Making Baby shower hair clips is fun activity especially for an all girls party.
 Ladies will feel good admiring their handy work and mommy will love it :)
Hop over for more fun free Baby Shower Activities
Jul 15, 21 02:41 PM

A baby gender reveal is a whole event with these creative and fun reveal ideas and games.

Jun 03, 20 04:34 PM

Virtual baby shower games and ideas to make your virtual celebration a hit

Apr 16, 20 03:40 PM

Print these fun, free baby shower bingo games for popular baby bingo, gift bingo and nursery rhyme bingo games.