Guess How Many Are In The Baby Bottle
Guess how many are in the baby bottle is a staple at baby showers as far as games are concerned. The colorful jelly beans, m&ms or choice candy draws attention and persons can't help but try to guess how many candy is in the jar.
It's a ice breaker of choice and a multi-functional one at that as they are used to decorate the table while creating conversations and then even handed out as game prize to the winner.  If it's a large party then feel free to leave more than one scattered around the room.
Buy jumbo baby bottles at a party store, use regular bottles, mason jars or whatever container you feel will serve the purpose.

Popular candies such as M&Ms, jellybeans, skittles are often used but again its totally up to you.

Make sure to make a note of how many candies are in the bottle.

Place it on table with instructions for guests to clearly see along with paper and pen for them to write their guesses down on.

Near the end of the party go through the guesses and the person that has the closest number without going over is the winner.
We love making preparing games for you as easy and stress free as possible so below is a template of guess how many candies are in the baby bottle along with answer cards to write down guesses.
They are colorful and attractive and can go well with whatever theme you choose.
Download guess how many candy game sign now

Also Download these Free Printable Guess How many cards.
There are 4 cards to a page. Click to download this pdf file now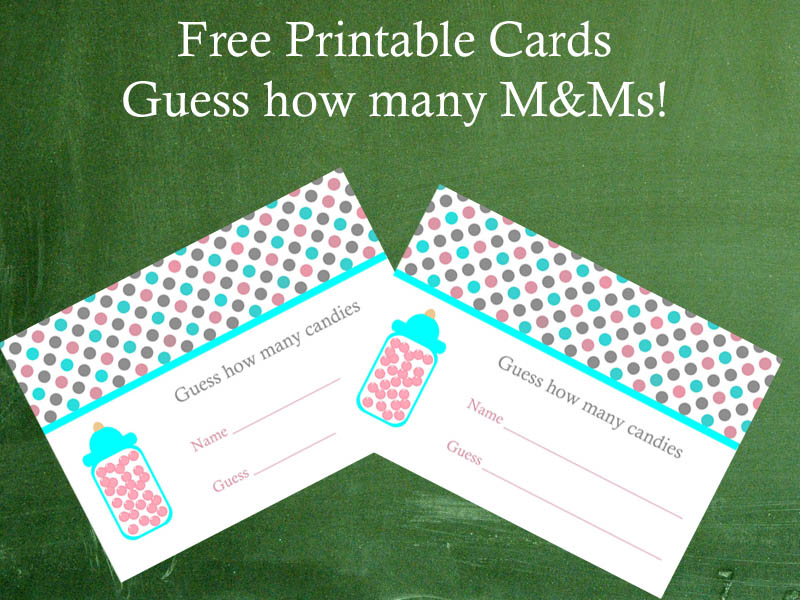 Hop from Guess how many game to More fun games

Jul 15, 21 02:41 PM

A baby gender reveal is a whole event with these creative and fun reveal ideas and games.

Jun 03, 20 04:34 PM

Virtual baby shower games and ideas to make your virtual celebration a hit

Apr 16, 20 03:40 PM

Print these fun, free baby shower bingo games for popular baby bingo, gift bingo and nursery rhyme bingo games.