Find the Guest
Baby Shower Game
Find the guest baby shower game is one of the best baby shower icebreaker games out there. It is the baby shower version of the popular who don it ice breaker game.
Getting people to mingle freely with strangers at a party is not so easy, better to just find someone you already know to socialize with.
Its for this very reason why we use icebreakers. Providing an atmosphere where everybody feels welcome and included will no doubt give guests a unique and fun experience at the.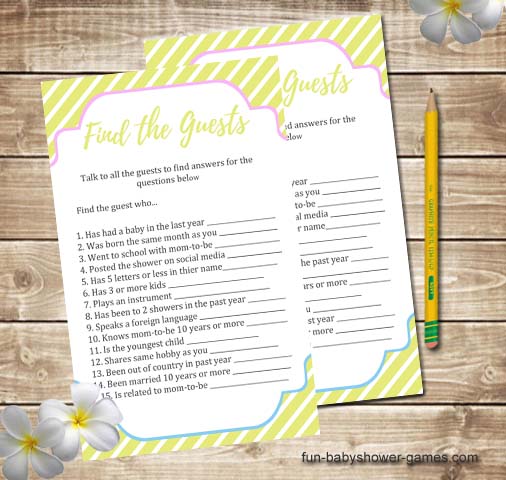 Find the guest game allows persons to go around the room and mingle openly with friends and strangers to answer random questions.
You will be surprised and delighted to hear people learning new things about persons they have known for years as well. 
---
How to play Baby shower Find the guests game
For materials all you will need is a game sheet with questions and a pen or pencil for each player.
Players are asked to go round the room and try to find a person that has done an item on the game sheet.
Encourage players to try to get as many persons as possible with the person to complete their game sheet first being the winner.
We made it easy and convenient to play this game by having a free printable version ready for you to download.
Its 2 games per page and with a nice neutral color scheme that's adaptable to your baby shower party. All you have to do is print, trim and play.
Download Find the guest baby shower game here
Find the guest game questions
---
Want to make your own personalized Find the Guest game? Browse our list of cool and interesting questions to consider: 
Would like to have 5 kids or more
Been married 10 years or longer
My husband/wife and I are high school sweethearts
Did not take a honeymoon right away
Got pregnant on honeymoon
Have known the mom to be and or dad to be for more than 10 years
Am best friends with my mom/dad
Took a gap year after high school before college
Played a sport in high school
Still watch cartoons sometimes
I am the youngest sibling
I am the middle child
I am the oldest of my siblings
I love to have breakfast for dinner
I hate dessert
Had/has a job at a fast food store
Have been out of the country in the past 6 months
Have 5 or more social media app on my phone
Have been to a big concert in the past 3 months
Have twins or know someone that has twins
I work out 4 days a week
Took a family vacation in the past month
Been on a road trip since this past year
Went to Disneyland more than once
Have been to another baby shower recently
Have a sibling who just had a baby
---
hop from find the guest game to more fun icebreaker games