Creative Couples Baby Shower Games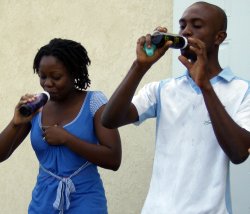 Why couples baby shower games? because goodbye are the days when baby showers were a women only affair. Men are now stepping up to the plate and are supporting the women.
You can now find men accompanying women to baby registries and yes, they are tagging along at baby showers.
To make sure that the guys don't run to the other room you need to have games to keep theirinterest.
These couples baby shower games offer good comradery between men and women without making the guys uncomfortable.

Double the fun with these Couples Baby Shower Games:
Feeding the baby- Double duty
Couple baby shower games are a way to give new parents practice for when the baby comes. Guys have to learn to feed the new baby and this is the perfect way to get their practice.
You will need:
How to Play:
Divide players into couples and give each team two large bibs and a pair of small spoons.

Give each team a jar of baby food. Have each person sit in front of their partner, after which they both will be blindfolded and asked to feed each other. The team that finishes their jar first is the winner.This can be a little messy but a so much fun to watch. This game is sure to be a crowd pleaser.
Bobbing Pacifiers
This couples game have always gone down well with guys at baby showers that I've been to so, I am sure it won't disappoint your guests either. This game is about couples working together.
You will need:
6-8 pacifiers,

A large table,

3 bowls;1 filled with water 1 with pacifiers and 1 left empty to place pacifiers

blindfold for each player.
How to Play:
Place players into pairs and ask them to stand side by side by the table. Make sure to blindfold each player.Place pacifiers on the table beside the bowl of water. Have one team member transfer the pacifiers to the container with water and the other team member fish the pacifiers from the container to an empty container within easy reach.The team that has the most pacifiers at the end of 2 minutes wins.
Couples Trivia
Want to get a laugh out of seeing the parents to be fumble over questions about each other? Couples Trivia games are one of my favorite couples baby shower games and this game is just what you are looking for.
You will need:
How to Play:

Compose two sets of questions, one for the mom to be and the other for the dad to be.Give each a paper with the questions to fill in and then collect the sheet from each when they are finished and let the games begin!

Have the parents to be sit side by side and then quiz the mom from dad to be's question sheet to see how much she knows her husband. Do the same thing with dad. You will be surprised at the answers and I am sure the parents to be will be as well. Questions can be about how to discipline the child and what schools should the child attend etc.
Ladies VS Gentlemen Trivia Game
This is a variation to the couples trivia game but this couples baby shower game involves pitting the guys against the girls.
You will need:
How to Play:
Break up players into two teams with all girls on one team and all guys on the other and ask each team questions about childcare, parenting and so on.The guys will have something to prove by trying to out answer the ladies.

You will need to have a time keeper with a stop watch and give each team thirty seconds to answer a question or the question goes to the other team. The team with the most correct answers at the end wins a great prize.
Diaper Race
You will need:
How to Play:
Break up players into pairs to see who can make the best diaper for this couples game. Give each couple a roll of toilet paper.Tell each couple that 1 person should make a diaper using the toilet paper on the other person. The best looking diaper at the end of five minutes is the winner.
For you seasoned baby shower goers watch this game for a hilarious variation to this game.
More Couples Baby Shower Games:
Couples Game:Double Diaper Duty
Both men and women should know how to change the baby but what happens when you take double duty on changing the diaper? Couples will see that it's not always easy being a part of a pair.
You will need:
a few life size dolls

diaper

some baby wipes

baby powder.
How to Play:
Break up players into couples and give them a doll that has a poopy diaper to change into a fresh diaper.The trick is that each couple has to use only one hand to change the baby. Give each team five minutes to remove poopy diaper, clean baby with a wipe, powder and put baby in a fresh diaper.


Balloon Pop
Couples baby shower games such as this one allows couples to get real close. The aim of the game is to have couples working together to win a prize.
You will need:
How to play:
Blow up some balloons before the start of the shower and place a small object in each balloon such as toothpick, a ribbon etc. Place balloons in a large box so that players have easy access to them. Tell couples to pick a balloon and try to burst it between each other without using hands. The team that pops the most balloons and gets the most ribbons at the end of three minutes wins.
Baby Pledge
This is a great game for everyone to see if mom and dad are on the same page. Mom and dad will be asked questions with the aim of getting the same answers.
You will need:
Sheet with questions,

paper

marker or crayon

How to Play:
Make a list of ten or more questions such as what color eyes will the baby have? Have mom and dad sit at the front of the party beside each other with enough paper and a marker so they can write the answers to the questions. Have the quiz master ask the questions and the mom and dad will write their answer on a paper (they should not peek at the others answer) and then they should both reveal their answers at the same time.

For each matching answer someone will pledge an item for the baby such as a pack of diaper or a contribution to the baby's college fund.
Making A Baby
You know the saying It takes two to make a baby, well this game will show you how.

You will need:
Have guests try to make a baby using play dough but the trick is to only use one hand. When a couple finishes making their baby let them put it on a paper plate and serve it up to mom to be for inspection. All babies are pretty but the prettiest baby will be the winner.
Feeling For Clothespins
This games allows men and women to get up close and personal.
You will need:
2 packs of Clothespins,

blindfolds
How to Play:
This games allows men and women to get up close and personal. Get 2 dozen clothespins and break up players into pairs.Blindfold players as they stand back to back. Place the clothespins strategically all over their bodies such as in their hair, shirt sleeve, shoes and so on.
Then tell them to turn around and give them 2 minutes to find as much clothespins as possible by feeling for them on each other. With both players butting heads and groping each other at the same time it might not be so easy to get all the clothespins.The team that has the most clothespins wins.
Shoe Lace Race
Everybody knows that at certain point in her pregnancy mom to be will have a difficult time trying to see her feet. Couples baby shower games such as this show her that you understand what she is going through while having fun at the same time.
You will need:
How to play:

Shoe lace race will have mom to be cracking up when she sees how funny the players look trying to bend when they are pregnant. Tell each player to take off their shoes, the men should take off thier socks as well.When they are done give each player a balloon to put under their shirts. They should try to put their shoes and sockson while standing without bursting their balloon.
From Couples Baby Shower Games To Coed baby Shower Games
Jul 15, 21 02:41 PM

A baby gender reveal is a whole event with these creative and fun reveal ideas and games.

Jun 03, 20 04:34 PM

Virtual baby shower games and ideas to make your virtual celebration a hit

Apr 16, 20 03:40 PM

Print these fun, free baby shower bingo games for popular baby bingo, gift bingo and nursery rhyme bingo games.