Christmas
Baby Shower Games

Tis the season for a beautiful bouncing baby. We would like to help you spread good cheer so we created these Christmas baby shower games. Ho ho ho!
You can make your own Christmas baby shower games by using bright greens reds and golds.
Wishing Tree
Christmas trees of all shapes, colors and sizes are in large supply at this time of year.  Guests can write thoughts, wishes and advice for the new baby and add it to the wishing tree which mommy can then take to the hospital or place in the baby's room.  Be creative in decorating the tree. As one reader contributed, she used plain Christmas balls on her wish tree. Guests were given paint, glitter and other embellishments to write their advice for baby to have year after year.
What's in baby's Stocking?
Fill a Christmas stocking with goodies for the new baby. Pass the stocking around the room so everyone gets a chance to feel for what is inside. Persons are not allowed to look inside the stocking or put their hands inside, they can only feel the stocking to try and guess its content.
Hand out paper and pencil to everyone to record their answer so they don't forget. The person with the most number of correct guesses as to what items are in the stocking wins.
---
What is your elf name? Ice Breaker Game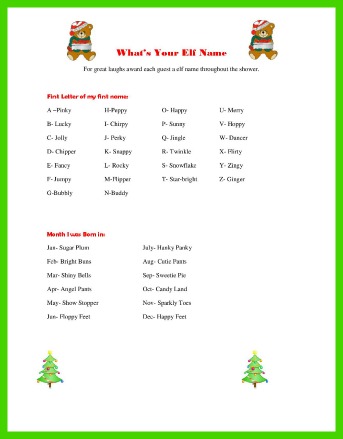 Get your guests to show their funny side by assigning them an elf name through the rest of the shower. Each person's name is chosen base on the letter of the first name and the year they were born. It's extremely funny when gift time rolls around and each person give mommy their gift while using their elf name.
You can penalize guests by having a "baby tip jar" for anyone who messes up and calls someone other than their elf name.
Print the game sheet here to play at your party.
---
---




Wishes For Baby Cards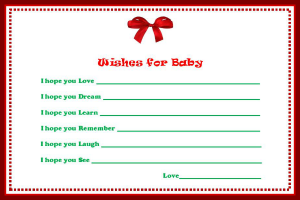 Its christmas time and so its all the more fitting that a christmas baby shower party have wishes for baby cards. just to let everyone share their hopes for the new little person coming into the world.
Get free download of these cards here
---



Baby Christmas Scramble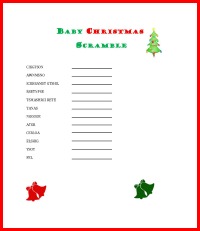 Get your guests ready to mingle to all your christmas jingles by playing baby christmas scramble. Its easy and fun and we made it super cute to delight your guests.
Download your very own here! just print and and hand out to start playing
---



Word Find



Christmas Style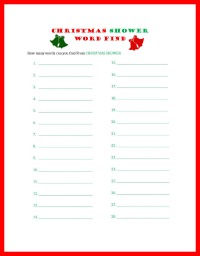 How many words do you think you can find from "IT'S A CHRISTMAS BABY" ?  well find out by letting your friends and family have a shot at it.  You will be surprised how many words you find and how many you didnt.
Give everyone 5 minutes to see how many words they can come up with. Then at the end of that time call out the words on the answer sheet provided and the person that has the most words win. you can also decide a winner by  having a points system. 1 point for 2 to 4 lettered words, 2 points for 5 lettered words and so on.
Click to download and play this game here
---



Bingo Christmas


Baby Shower Game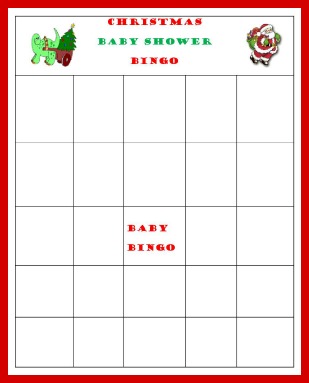 Bingo is a baby shower favorite so we made sure to make one available for all your guests to enjoy christmas style.
Santa brought this just for you all you have to do is download it here, print, play and have lots of laughs
---



Christmas Carol Game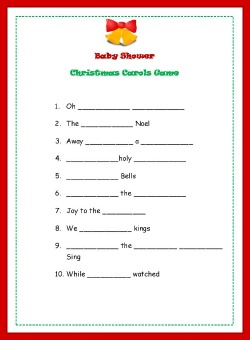 Christmas Carols are a long standing tradition and the season would not be the same without these jingles getting us in the festive mood.
So bring a little festiveness to the party and ask guess to fill in the words to complete the title of the christmas carol.  The person who guesses the most answers correct is the winner and gets bragging rights.
Answer sheet is provided.
Download to play the christmas carol game now
---





Free Favor Tags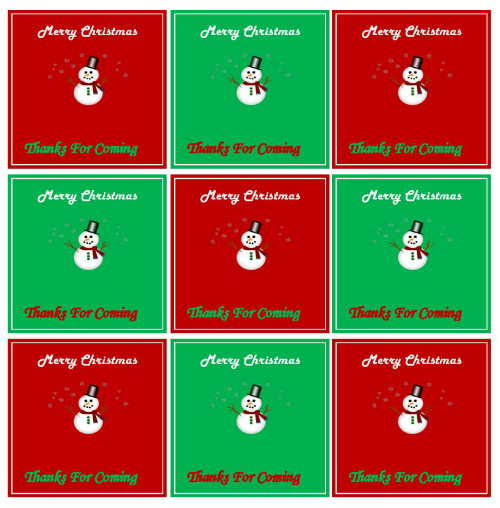 Download to start using them now

---
Free
Printable Christmas Invites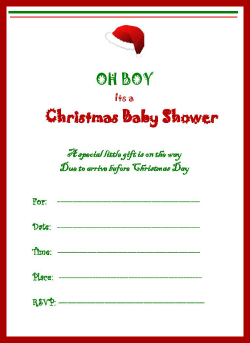 ---
Fun Baby Shower Games Wishes you a Merry Christmas

From christmas baby shower games to List of games Page

Jul 15, 21 02:41 PM

A baby gender reveal is a whole event with these creative and fun reveal ideas and games.

Jun 03, 20 04:34 PM

Virtual baby shower games and ideas to make your virtual celebration a hit

Apr 16, 20 03:40 PM

Print these fun, free baby shower bingo games for popular baby bingo, gift bingo and nursery rhyme bingo games.