Baby Shower
Thank you Poems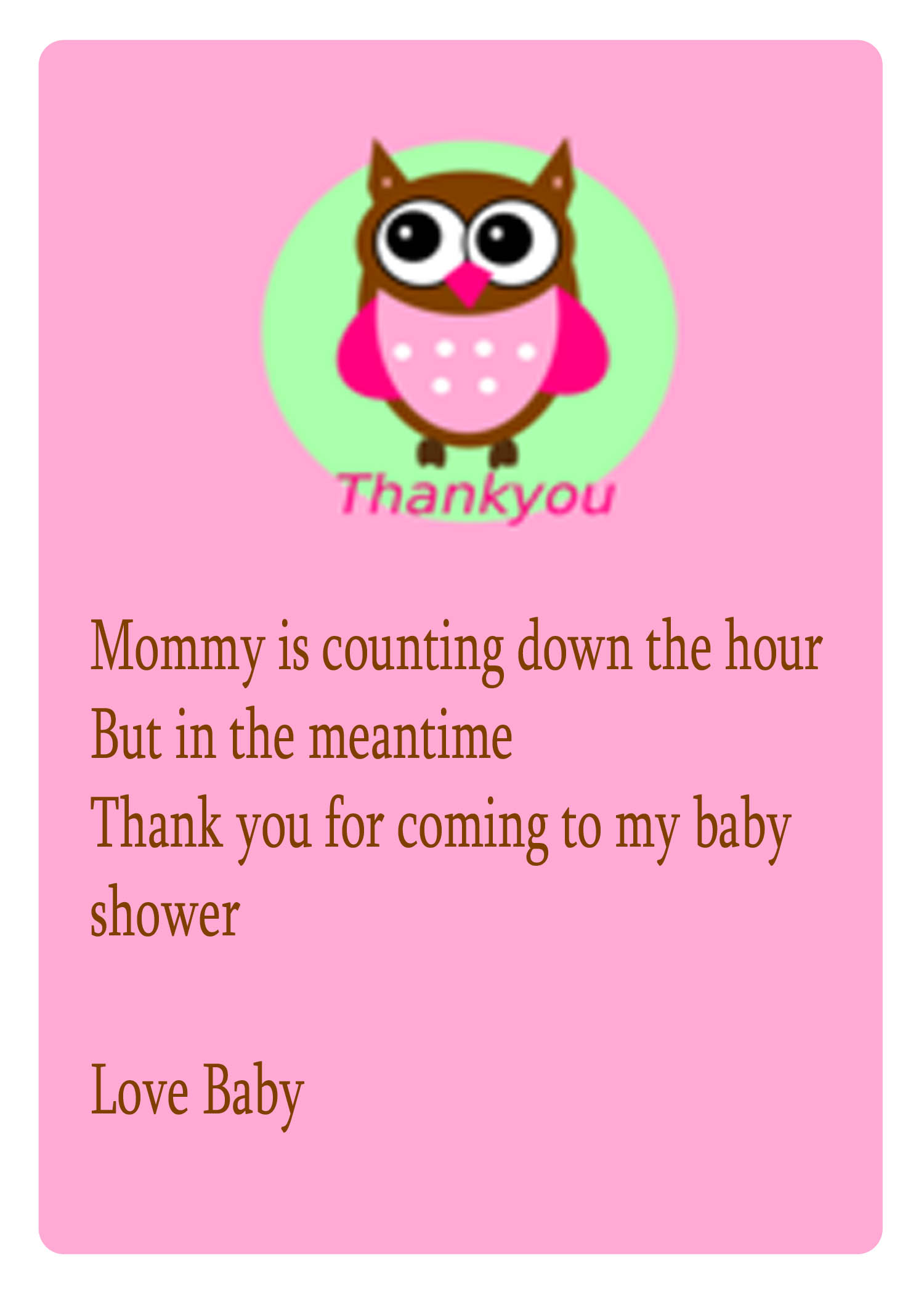 New Mommies use baby shower thank you poems on thank you cards to express their appreciation for the time and thought friends and family showed her on her special day.
I know as a regular baby shower attendee that a thank you card is a sweet way to remember the day and those words from the expecting mother does make you feel appreciated.
Mix it up in thank you cards by using poems of thanks from baby instead of just from the mommy to be. If you are having twins then have a little saying from the babies, guests will think its very cute and will put a smile on their faces.
We assembled some baby shower thank you poems you can use from not only mommy but from the baby as well.
List of Baby Shower
Thank You Poems
Thank you for your lovely gift
I cannot wait to use it
Just a little longer for
Me to grow much stronger
Then pop by to see me
I'll be the one with the chubby cheeks
that giggles and squeal
***
thank you for your gifts of love
diapers, wipes, blankies
everything we can think of you
gave to mommy
sure did save her lots of money
we will be coming soon
we are so excited to meet you
 ***
we tried not to give mommy trouble
but heart burn, fat feet all were double
we thank you for taking the time
to shower mommy we felt her excitement
from inside her tummy
I'm a mess these days
And my feet I cant locate
But i am writing to say your gift was great
So thanks from mommy, daddy and baby
Your friendship and support we all appreciate
 ****
The hour the baby comes
I haven't a clue
But in the meantime I wanted to say thank you
For the lovely gift you gave and to help us celebrate
And baby thanks you too but you'll only hear her say it
About her 3rd birthday
 ***
Nappies, booties, bottles and car seat
Added to your gift was so sweet
Using your gift was so sweet
Using your gift will be a treat
For having you at the shower kept me upbeat
When the baby comes I'll take you to lunch
To make my thank you complete
 ***
Having you at my baby shower
Gave me so much pleasure
I got booties, bottles, diapers even sweater
Thank you for your gift I'll always treasure
Where To Next:
Jul 15, 21 02:41 PM

A baby gender reveal is a whole event with these creative and fun reveal ideas and games.

Jun 03, 20 04:34 PM

Virtual baby shower games and ideas to make your virtual celebration a hit

Apr 16, 20 03:40 PM

Print these fun, free baby shower bingo games for popular baby bingo, gift bingo and nursery rhyme bingo games.