Baby Shower Dirty Diaper Game
The baby shower dirty diaper game is a crazy diaper game that is a must if you are having a diaper themed baby shower.
However this game will be most enjoyed by guests that have a good sense of humor and who are up to trying most anything.
Be sure to ask for volunteers for this game as not everyone may be brave enough to try, after all it can be pretty gross.
The baby shower candy bar game can also be called the candy bar diaper game.
What you will need:

6 chocolate candy bars
6 diapers
Paper and pen for each player
Preparing the game

Before the shower take diapers and number them 1 to 6.
Take each chocolate bar and place it on a diaper, that way you will have a candy for each numbered diaper.
Take the first chocolate and melt it in the microwave then take the melted mixture and add it to the diaper.
Have a notepad ready to write down which candy goes into which numbered diaper.You can do this after or before the candy is melted.
Repeat the process until you have melted chocolate in all the diapers.Place each diaper on a table in order ready for game.
Be creative in your selection of chocolate so that when melted they resemble real baby poop. You can even make it a bit challenging by adding 2 different type of melted chocolate to making a unique combination.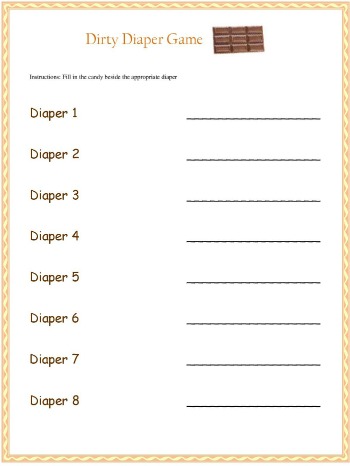 How to play:
Give each player a sheet of paper and pen to record their answer or you can use
Free Dirty Diaper Game Template
. Pass the first diaper around and tell each guest that by using their sense of smell and sight, they should determine which chocolate is in the "dirty diaper" and write down their answer.
After all the diapers have been passed around and everybody records their answers, tell each player to exchange their answer sheet to the person to their right to score. The hostess then calls out the answers and the person with the most correct guesses wins the game.
What better prize for the dirty diaper baby shower game than a goodie bag of tasty chocolates they would be sure to enjoy. Or Let them know the winner gets kisses and give them a bag of Hershey's Kisses Candy.
Here are some ideas for candy bars you can use:
1. Hershey's Kisses
2. Snickers
3. Butter Finger
4. Peppermint Patty
5. Kit Kat
6. 100 Grand Bar
7. Crunch
8. Resess
9. Twix
10.Milky Way
From Baby Shower Dirty Diaper Game To More Diaper Games
Jul 15, 21 02:41 PM

A baby gender reveal is a whole event with these creative and fun reveal ideas and games.

Jun 03, 20 04:34 PM

Virtual baby shower games and ideas to make your virtual celebration a hit

Apr 16, 20 03:40 PM

Print these fun, free baby shower bingo games for popular baby bingo, gift bingo and nursery rhyme bingo games.