Baby Shower Advice Cards:
A Creative Baby Shower Activity

Baby shower advice cards are the coolest way to offer free and meaningful advice to the expectant mother. Each guest can offer helpful insight into what mom can expect in parenting.
Not every guest that is invited will be a parent but they all will have something to share whether its from babysitting for friends and family or their own experiences while growing up.So do not be afraid to include all guests in this baby shower activity.
If you have guys at the baby shower where you invite the expectant father's friends or guests come as couplesthen you can include mommy and daddy advice cards. This way daddy gets some much needed advice from guests including fellow dads.
You can use advice cards in many different ways:
Tell guests make their own advice cards from home on index paper and take it to the shower for mommy to read later on.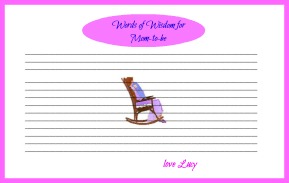 As the hostess, purchase or make your own advice cards and make them available to all the guests to write down their advice, have a cute box set aside to collect all the cards and give it to mommy as a gift. You can write something nice on the box such as tips and tricks of parenting or a little advice from all your friends.
Make a baby advice book. For my friend's shower we used a paper punch and made a small hole in the top cornerof the card and used a small ribbon to keep all the cards together in sort of a small advice book from all the guests. Since there is no "how to be a parent" manual this gave the mom to be really useful advice. My friend absolutely loved it.
A first time mother would really appreciate new mother advice cards, since she will need all the information she can get. Each guest will likely have some unique parenting experience that the new mother will benefit from.
Advice Cards Door Prize Game
Use the baby shower advice cards as a fun baby shower game activity by telling each guest on arrival that they should fill out an advice card with their name and some advice they would like to share with mommy. Sometime during the shower tell guests that you will be having a door prize draw. Pick out one or a few advice cards and read it aloud to the guest of honor. The lucky person whose advice is drawn will get a door prize just for coming and sharing with mom.
Including baby shower advice cards in the shower celebration will not only give the expecting mother meaningful and useful information but will be a nice gesture that she will most likely treasure for years to come.
Jump From Baby Shower Advice Cards to Baby Shower Activities
Jul 15, 21 02:41 PM

A baby gender reveal is a whole event with these creative and fun reveal ideas and games.

Jun 03, 20 04:34 PM

Virtual baby shower games and ideas to make your virtual celebration a hit

Apr 16, 20 03:40 PM

Print these fun, free baby shower bingo games for popular baby bingo, gift bingo and nursery rhyme bingo games.