Baby Boy Poems
Cute baby boy poems, verses and rhymes to spread the word that mommy is expecting a sweet baby boy.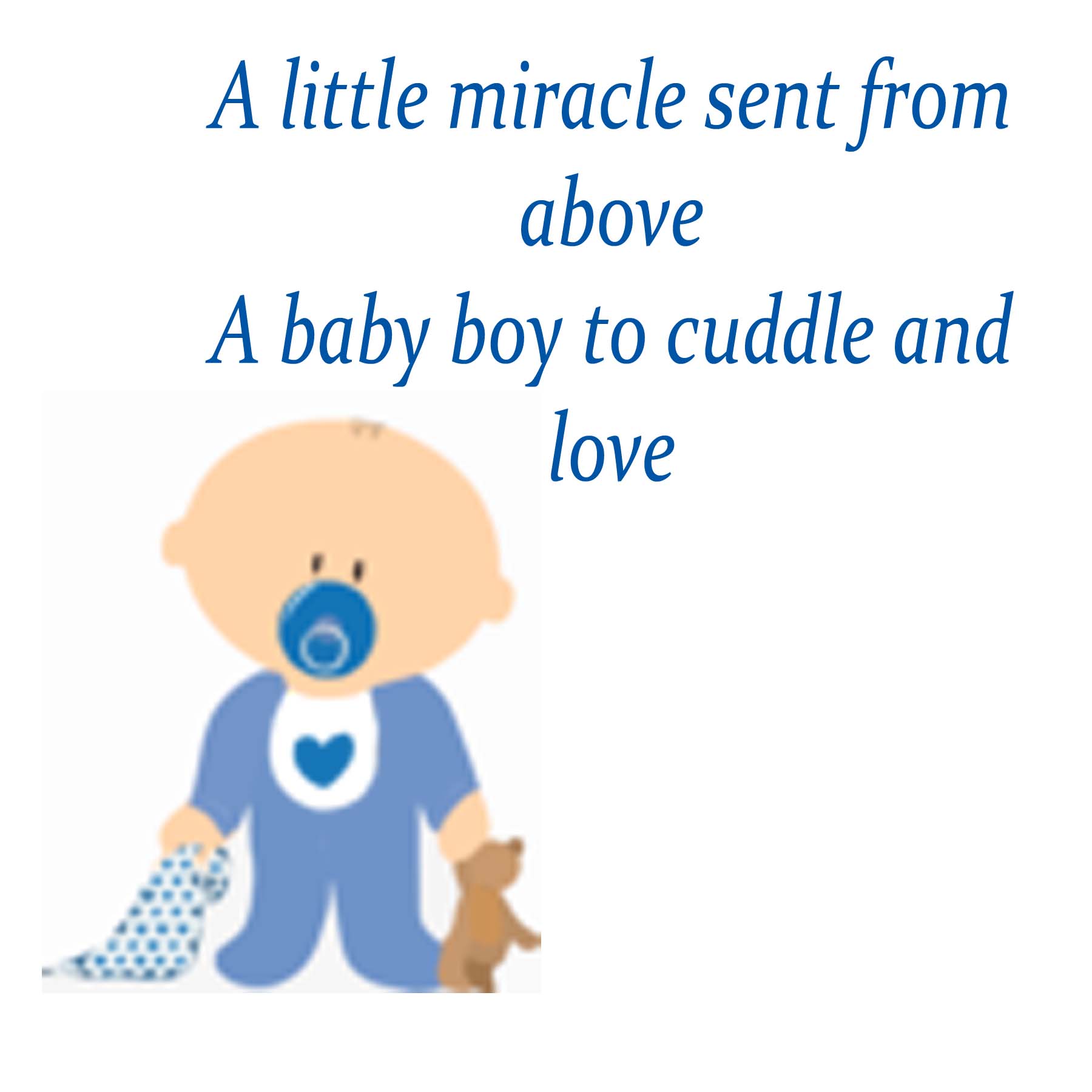 Feel free to use them in invitations or birth announcements. These poems are short and sweet to put a smile on the faces of friends and family.
These poems are free to use for your personal needs only and we love to hear any sweet poems that you would like to share.




Baby Boy Poems and Verses

Baby Ben is on the way
Mommy expect creepie crawlies
Football, baseball and fire trucks
But first lets celebrate in a special way
***

Rubby duckies and baseball
Diaper and pins
This is where the fun begins
***
A sweet baby boy we cant wait to meet
In the meantime lets chat and eat
A celebration with lots of blue
To help mommy prepare
She'd love to see you there
***
Buggies, trucks and digging up worms
Is what the Taylors have in store
Lots to do before the baby gets here
Your'e invited to a baby shower
We'll get mommy prepare
***
Holly's baby boy is on the way
So set aside the special day
***
Little hands, little feet
Sweets and precious oh so sweet
This little miracle is a boy
we cant wait to meet
It's a baby shower what a treat
***

Twinkle, twinkle little toes
 A little boy in mommy grows
And as her time draws near
Lets have a party            
before the little man gets here
***
Ten little fingers, ten little toes
Puckered lips and a button nose
Skin so soft with tiny fist s curl tight
What a welcome blessing for mommy right?
Let us honor Mommy as she soon steps in her role
For to be a great mommy is her goal
Laughter, advice and your gifts to share
Let us celebrate before her little boy gets here
A little miracle sent from above
A baby boy to cuddle and love
***
We can barely wait for the new bundle  of joy
Yes mommy is expecting a boy
Yes they got the news
Its not pink
Its definitely blue
For a baby shower the mom-to-be
Invite you
Boy Baby Poems for Gift Cards:
May your beautiful baby boy
Bring you a lifetime of Joy
Lots of memories to share
with smiles that last all year.
Congratulations on your new baby boy
***

There is no words to express that feeling you get
When you first meet your baby son
You will watch him grow healthy and strong
Day after day your heart will expand
Lots of proud moments in your future to come
So congrats on your new baby
such a wondrous time for you

***

Oh what a blessing 
God gave you a son
An extra piece of you to cuddle and love
Congratulations to you as you welcome your little boy

***
Here a sweet little poem from baby to thank you for his gift:

Hello I am Baby Ben
as yet you cannot see me
but thank you for your gift
the time and thought you took to choose it
My mommy is really happy and cannot wait to you it

***
Boy Baby shower Verses:
Oh joy, Mommy is expecting a boy!
Boy oh Boy!
Ships ahoy Jill and David are expecting a boy!

Pages You Might Like:
Jul 15, 21 02:41 PM

A baby gender reveal is a whole event with these creative and fun reveal ideas and games.

Jun 03, 20 04:34 PM

Virtual baby shower games and ideas to make your virtual celebration a hit

Apr 16, 20 03:40 PM

Print these fun, free baby shower bingo games for popular baby bingo, gift bingo and nursery rhyme bingo games.