Baby Shower Candy Bar Game?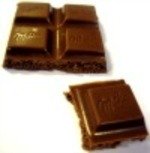 We women love our chocolate. So why not celebrate a new baby with a sweet baby shower candy bar game!
The list below will give you some delicious game ideas for a fun candy bar game for your upcoming shower.
Who knows you just might decide to make your own special baby shower candy bar game.
Enjoy!
Baby Bottle Guess
This candy in a baby bottle game is a nice addition to your shower. It works great as an ice breaker or even a door prize game where winner takes all. however you choose to use it guess will get a kick out of trying to guess how much candy bar.
Baby Shower Candy Concentration
This deliciously fun Baby shower Candy Concentration Game will give guests a good laugh when they hear the meaning behind Skor and other chocolate.
Candy Bar Diaper Game
This baby shower candy bar game will tickle the senses. Diapers and candy put together these two combination produces one hilarious baby shower game.
Name That Candy Bar Game
Guests will enjoy this baby shower candy bar game called the name that candy bar game where they will be bursting their brains to get a mouthful of candy.To play this game all guests have to do is name a candy that describes the questions and phrases that you as the hostesses will read aloud.
Candy Bar Matching Game
Get all the guests involved in this candy bar matching game at your baby shower and give everyone a chance to win some tasty treats.
Candy Poem
we have seen that candy and pregnancy can go hand in hand. So why not challenge your guests with a story or candy poem game?
Give players a pen and a sheet of paper with a list of candy. Tell them that they have to use all the candyon the list to make a poem or story about the mom-to-be, pregnancy or anything baby related.
Take a look at this baby story using names of candy.
Jack and Tina Skor big time and made Three Musketeers, which they named Baby Ruth, Mike & Ike. At first Tina complained about being Chunky and the Rocky Road of her pregnancy but when the babies were born just a Look and the sound of their snickers was a Tear Jerker and she smiled with joy at her Treasures.



Jul 15, 21 02:41 PM

A baby gender reveal is a whole event with these creative and fun reveal ideas and games.

Jun 03, 20 04:34 PM

Virtual baby shower games and ideas to make your virtual celebration a hit

Apr 16, 20 03:40 PM

Print these fun, free baby shower bingo games for popular baby bingo, gift bingo and nursery rhyme bingo games.